School District Bans 'To Kill A Mockingbird' For 'Making People Uncomfortable'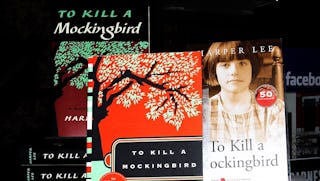 Laura Cavanaugh/Getty Images Entertainment/Getty Images
The school banned the popular book for doing what it's supposed to do
Because it's 2017 going on the dark ages, a school district inexplicably decided to ban the Harper Lee classic To Kill A Mockingbird. Their reason? It makes people "uncomfortable."
That's kind of the point.
The Biloxi, Mississippi school has pulled To Kill A Mockingbird from its 8th grade curriculum because of complaints that the some of the language in the book is "making people uncomfortable," Kenny Holloway, vice president of the Biloxi School Board, told the Sun Herald.
"It's still in our library," Hollway said, "But they're going to use another book in the 8th grade course."
The paper reported receving an email about the ban from a reader who labeled the decision "censorship" and claimed the book was pulled in the middle of the lesson plan, and that "the students will not be allowed to finish the reading of 'To Kill A Mockingbird' …. due to the use of the 'N' word."
The reaction online has been harsh, as people object to removing the book for doing precisely what it's indended to do: confront people with the uncomfortable reality of racism.
It's especially galling to people of color, some of whom view the action as yet another example of whitewashing.
Especially in the face of objections about the removal of the Confederate flag and related monuments.
Another user points out the painfully obvious fact that despite the book having been written decades ago, the book remains as relevant as ever in 2017.
The book, which was based on Harper Lee's own experiences as a young girl in Alabama in the 30s. It's been a mainstay at schools for years, and is universally regarded as an American classic.
An eighth grade teacher took to a Biloxi school's website detailed exactly what makes the book so special, and essential.
"Compassionate, dramatic, and deeply moving, "To Kill A Mockingbird" takes readers to the roots of human behavior — to innocence and experience, kindness and cruelty, love and hatred, humor and pathos. Now with over 18 million copies in print and translated into 10 languages, this regional story by a young Alabama woman claims universal appeal. Harper Lee always considered her book to be a simple love story. Today it is regarded as a masterpiece of American literature."
Even a Republican senator sees the benefits of the book, which was written by a white woman, from the perspective of a child, and is about more than just racism.
Now more than ever, we need to be celebrating these stories that provide common ground, rather than finding new ways to divide ourselves.
This article was originally published on