Video Shows School Bus Aide Hitting Little Girl With Autism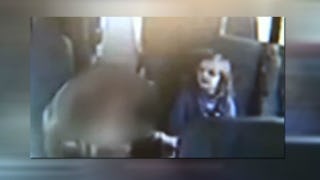 Image via Twitter.
Disturbing incident happened in Illinois
A video has surfaced that shows a school bus aide striking a little girl who has autism. The startling incident was caught on camera and is uncomfortable to watch. No child should ever be hit in the face by an adult.
The video shows six-year-old Kayle Rushing being hit in the face twice by an unidentified school bus aide. The elementary school student was on her way to school when the altercation happened, ABC 7 reported. "My blood boils," explained the girl's father, Nicholas Rushing. "I think about it and it just makes me mad. She shouldn't have to go through that." Kayle communicates with her eyes so it wasn't easy for her to tell her parents what happened. "She's nonverbal, she can't come back and be like, 'Dad, this lady hit me, not just once, she hit me twice,'" Rushing said.
We can't even imagine how heartbreaking and stressful this situation has been for the family. No parent expects their child to be physically assaulted by someone who has promised to protect kids. "It just makes me want to cry to be honest with you. As a mom, just seeing that, it's disgusting," Kayle's mother Madeline Norley told reporters. "She was just acting weird for the next couple of days," Norley shared. "It definitely had an impact."
The superintendent of the school district Kayle is a part of contacted her parents last week. School district officials found the video and showed it to Kayle's mom and dad. The bus aide accused of harming the six-year-old girl is an employee with Lincoln Way Special Education District 843, which is the school district's bus contractor. "There is an on-going investigation of an incident that allegedly occurred on a student school bus," said 843's Executive Director Sarah Rexroad.
Police are also reviewing the video and interviewing the people involved, but as of now haven't filed any charges. Kayle's parents told reporters that what is most important to them is training to avoid situations like this in the future for other kids with disabilities. "When she's having that meltdown, she needs that space and be able to mellow it out herself. And she does it," Rushing explained.
We have to give these parents credit for keeping their cool. Harming a child is inexcusable, but they've found the strength to rise above the horrible situation and focus on helping kids like Kayle.