Bus Driver Caught On Video Drinking Beer While Driving 32 Students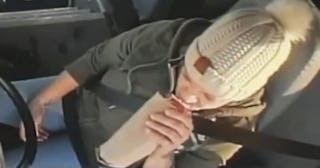 ABC News
An Illinois school bus driver has been arrested after allegedly drinking alcohol behind the wheel
In news that will horrify any parent, a now-viral video appears to show a school bus driver swigging beer as she transports 32 elementary school students. That woman, 44-year-old Michelle Passley, has been fired. According to ABC News, she has been charged with two counts of endangering the life and health of a child for allegedly drinking two alcoholic beverages while driving the bus.
While no students were harmed, authorities in Illinois say Passley posed a very real and present danger during the incident. "When we put our children on the school bus in the morning, the idea is that we have placed our kids in the safekeeping of someone who is going to take good care of them. It's infuriating to believe that someone who is trusted with these children on a daily basis could potentially put them in this kind of danger," said Aurora Police Department Chief Kristen Ziman during a press conference on Tuesday afternoon.
Alarmingly, Passley's behavior may have continued to go unnoticed had it not been for two people: a manager from the First Student Bus Company and "an observant convenience store clerk." Per the Aurora Police Department, the manager contacted them after the Speedway clerk called the local school district to say they'd just sold beer to a woman — and then watched her get on a school bus and drive away.
Based on the intel, police detectives began a criminal investigation on the woman (revealed to be Passley). "Detectives learned the bus driver picked up the school bus around 6 a.m. on Friday and completed one route," the police stated. "She then stopped at a gas station in the 900 block of North Farnsworth Avenue and purchased two cans of beer, returned to the bus, and drove off." They then turned to video footage from that morning, determining that 32 elementary school students were on the bus when Passley got behind the wheel.
The Aurora Police Department said during the press conference that it was not aware of any previous criminal charges against Passley. And she may very well not have any criminal charges. However, the Daily Herald reports that on May 28, 2017, she received a citation from the Illinois State Police for "transportation or possession of open alcohol by a driver." According to the citation, she had a 12-ounce bottle of Mike's Hard Lemonade.
Court records indicate Passley received a $120 fine for the infraction. It's unclear if she was working for First Student Bus Co. at the time. The citation did indicate she held a Class B commercial driver's license at the time. In response to the current incident, First Student released a statement insisting "there is nothing more important than the safety of the students we transport." They went on to indicate Passley's contract had been terminated, and "the company is cooperating with the police investigation."
Passley was released on $100 bond and has a court appearance for the charges on Dec. 27. In addition to being fired by First Student, she will be reviewed by the Illinois Secretary of State's Office to determine if she's allowed to keep her commercial driver's license.