District Refuses To Serve Students Who Owe Lunch Money Anything But Jelly Sandwiches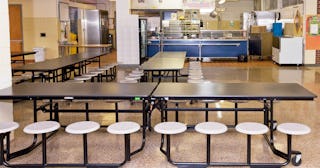 Mint Images/Getty
A Rhode Island school district is providing nothing but sun butter and jelly sandwiches to kids who owe money to the lunch program
All public schools in Rhode Island are mandated by state law to provide lunch to their students – but the Warwick Public School District has decided to give kids whose families owe the lunch program less than everyone else. They announced on Facebook this week that beginning on May 13, any kid who has a balance in the lunchroom will only receive sun butter and jelly sandwiches for lunch until they can pay up.
"If money is owed on a paid, free, or reduced lunch account a sun butter and jelly sandwich will be given as the lunch choice until the balance owed is paid in full or a payment plan is set up through the food service office," the post read.
The new rule will affect about 9,000 kids in the school district, from kindergarten to 12th grade, and it hinges on the fact that the law requiring schools to feed their kids doesn't say anything about the meal itself. Currently, 69 percent of kids in the Warwick schools qualify for free or reduced lunch – kids with free lunches may still run up a bill in the lunch room for doing things like adding a milk to their free meal.
Warwick told the Associated Press that their school lunch program was owed about $40,000 – and Newsweek reports that $300,000 in school lunches is owed across Rhode Island. Still, parents are in an uproar that kids will be punished and shamed for their parents' debts.
One commenter on Facebook didn't mince her words. "SHAME ON EVERY ONE OF YOU WHO HAD A HAND IN THIS DECISION," she wrote in the comments section. "Children should not be punished for being poor. They should not be singled out with your bad lunch replacements, leaving them open to further bullying."
Another commenter wrote:
"Just give the kids lunch. We already lost a janitor, science teacher, don't have air conditioning, we cant spring for a chicken patty for a hungry kid? What if this is their only meal of the day?"
Outrage was further sparked when a local restaurant owner came forward, twice, to donate thousands of dollars toward the kids' unpaid lunch tabs, only to be turned down by the school system. She took to Facebook as well.
"I have met with Warwick twice and the second time I left in tears after they refused to take a $4,000 check," wrote Angelica Penta of Gels Kitchen. "I get where they are coming from. They don't want parents getting upset if their childs lunch gets paid for, but if they are going through hard times they may need help. I come up with several different ideas and they were all shut down."
Since that post, she has raised even more money for the children and is working to find a way to get it to the kids' bills in a fast and fair manner.
The school responded with a written statement:
"On a number of occasions, Warwick Public Schools has been approached by a local business owner who solicited funds from the community for the benefit of students that have not paid for their school lunches. Each time these offers were made, Warwick Public Schools stated the department was not in the position to single out or identify specific students that should be selected for a reduction in their…debt while excluding others."
It then suggested that Penta create her own program to get the money to the children – which comes with difficulties.
"The School Department's recommendation to the business owner is that they create a program to decide which students would be eligible to have their account reduced or expunged by the donations the business owner had available. Applications could then be reviewed by the business owner and donations could be made to accounts selected by the business owner."
Other schools in Rhode Island have gone as far as hiring a collection agency to get parents to pay their kids' lunch bills–but even then, they made sure that kids got hot lunches, and lunches that looked like the lunch every other kid got.
School lunch debt is a national problem– both for school districts and for struggling families. Just this week, Valerie Castile, the mother of Philando Castile, donated $8000 to a Minnesota high school's school lunch balance. Her son Philando, who was black, was fatally shot by police during a routine traffic stop in 2016. He worked in a public school cafeteria.
There's an independent GoFundMe campaign attempting to raise the full amount owed to the school.
This article was originally published on