School Officer Caught On Video Body-Slamming 12-Year-Old And Knocking Her Unconscious
by Maria Guido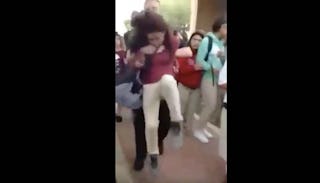 School officer put on leave after video surfaces of him body-slamming a student
A Texas school officer was captured on video body-slamming a 12-year-old girl. Her face hits the concrete so hard you can actually hear it.
San Antonio Independent School District Officer Joshua Kehm is on paid leave while the district determines whether he used excessive force. San Antonio News 4 talked with the student, sixth-grader Janissa Valdez, and her mother, Gloria Valdez:
"Do you remember it?" reporter Emily Baucum asks.
"No," Janissa responds.
She says the kids in the hallway had been anticipating a fight between her and another girl.
"I was going up to her to tell her let's go somewhere else so we could talk but that's when the cop thought I was going at her," Janissa says.
Here's the video — warning: it's incredibly disturbing.
After you hear her head hit the ground, she is clearly not moving. When the officer drags her to her feet, she looks dazed. This is an unarmed 12-year-old girl. There is NO explanation for this.
The officer allegedly responded after two students began arguing. So presumably, he was trying to prevent some tween girls from fighting. And he used this much force to do it.
"We want to make sure we understand what happened, and we're not going to tolerate any excessive force," school district spokeswoman Leslie Price said. "We're waiting to have all the information before taking appropriate action." She added, "The video is very disturbing."
"Disturbing" doesn't really cut it. Some other words come to mind. Infuriating. Mind-boggling. What the f**k was this grown man thinking?
Not. Okay.
"You could just hear where she hits the ground. And it's nothing but concrete, cement," her mother told News 4. "She wasn't moving. She was just knocked out. I wanted answers and nobody could give me answers. I contacted the vice-principal. I talked to the officer. He did what he had to do at the moment – those were his words."
Here is a statement from the district: "The District launched an investigation yesterday into the incident shown on the video that occurred at Rhodes Middle School. It's important that the investigation be done appropriately and in a timely manner. Texas state law requires an investigation to be conducted following a complaint filed against an officer, before that officer can be subject to any disciplinary action. The officer was placed on leave Wednesday morning, pending the outcome of the investigation. We are working to interview as many witnesses as possible, to ensure we take the appropriate action."
The only appropriate action here is that Kehm be fired and prosecuted for assault. He's lucky he didn't kill her.
This article was originally published on