Bystander Records School Resource Officer Tackling A 14-Year-Old Girl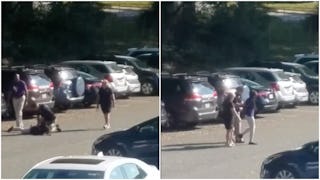 Image via George Timbers/Facebook
A 14-year-old girl was allegedly tackled to the ground by a school resource officer
Early in October, a white school resource officer allegedly pushed a 14-year-old black student to the ground and handcuffed her. Now, that officer is facing a wave of backlash for the unnecessarily violent and aggressive way he reportedly treated this young woman.
Rockell Baldwin, a middle schooler in Winston-Salem, NC, told WXII 12 News that she left her classroom with a hall pass on Oct. 5th because she wasn't feeling well and wanted to call her mom. School resource officer Tyler McCormick spotted her in the hallway and asked her where she was going. He followed her outside and reportedly tackled her to the ground.
Video footage from the incident didn't capture the entire interaction but you can see Baldwin being held forcibly on the ground by McCormick, as he puts handcuffs on her. The Winston-Salem Police Department said that they are investigating the incident and haven't released any additional updates.
Several community organizations are demanding that McCormick is fired. There was absolutely no reason for him to force the young girl to the ground and aggressively hold her down, they said.
"While we are still collecting facts, in the disturbing and violent arrest of 14-year-old Rockell Baldwin at Hanes Magnet School, the current available information provides no reasonable explanation for an adult male to slam a child to the hot pavement, put his knee in her back, apply the full weight of his body to her, and hold her face against the hot pavement and handcuff her,"James Perry, the president and chief executive of the Winston-Salem Urban League, said.
Rev. Carlton Eversley, pastor of Dellabrook Presbyterian Church, noted in a press conference that "race is at the core of this." The Ministers Conference agreed, explaining in a press release that it is "unambiguously clear that this would not have happened to a young white middle-school girl."
This statement is backed up with fact. According to 2017 findings from National Women's Law Center, black girls are 5.5 times more likely to be suspended than white girls. They're also more likely to be suspended than any other race. A report from the Government Accountability Office, issued in 2018, also found that there is racial bias in school discipline. Black students are far more likely to be punished with greater frequently and more severely than white students, often for the same type of misbehavior.
For Baldwin's mother, Tamkea McLean, the school officer's actions were both completely shocking and deeply upsetting.
"I couldn't believe it," she told WXII. "Especially the part when he had his hand on her face and just holding it on the concrete like that. She's a child. I wouldn't want that to happen to anyone."
This article was originally published on