Seattle Public Schools Just Released The Most Common Sense Dress Code You've Ever Seen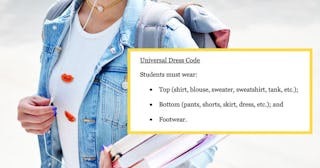 Element5 Digital/Unsplash and Seattle Public Schools
The new dress code policy is much more gender-neutral
As discussions over school dress codes — which predominantly target girls, leaving them with very narrow wardrobe options (that don't "tempt" boys or "distract" them from learning) — continue to heat up all over the country, one city is taking steps to make their codes more open for everyone in their district.
"Seattle Public Schools used to leave dress codes to individual schools," The Conscious Kid, an education, research, and policy organization "dedicated to reducing bias and promoting positive identity development in youth," posted on their Facebook page. "But starting this fall, the dress code is district-wide, and more liberal." Kids still aren't allowed to wear anything that shows drugs, alcohol, porn, or hate speech, but after that, as long as they wear a top and a bottom, "no specific length requirement," is required, so long as their private parts are covered, Seattle Schools announced on their website.
The district went on to say that many of their families felt their previous policy was unfair, mainly to girl students. One of the parents, Toshiye Ishisaka, told KUOWthat her daughter's school had a dress code that her daughter violated by wearing a sleeveless shirt on a particularly hot day.
"We received a copy of the code from the principal of the school, and it was very clearly gender-biased," Ishisaka said. So, she decided to be a part of the solution — working with the Seattle Council PTSA and the school district to help draft a new policy — not only for the dress code but so that children of color weren't unfairly singled out for disciplinary issues.
"Throughout the country there has been a huge amount of bias and race-based dress code enforcement," she said, "and that often had to do with hairstyle, and particular styles of dress, it had to do with maturity, had to do with gender expression." Seattle Public Schools announced the decision in July, telling schools that their students and parents or guardians will now be determining what is appropriate for their child to wear to school starting this fall.
"Students should be able to dress and style their hair for school in a manner that expresses their individuality without fear of unnecessary discipline or body shaming," according to a press release from the district. Their original policy was meant to lessen classroom distractions, but it became apparent over time that this was targeting females more often than not. "Students and staff are responsible for managing their personal distractions," their updated policy reads.
If school staff still need to dress code students, the policy also requires they do so in private to avoid embarrassment in front of their peers, a frequent byproduct of what has happened in the past. If anyone has questions, their language is refreshingly clear: It must not "create disparities, reinforce or increase marginalization of any group, nor will it be more strictly enforced against students because of racial identity, ethnicity, gender identity, gender expression, gender nonconformity, sexual orientation, cultural or religious identity, household income, body size/type, or body maturity."
Ronald Boy, the district's acting attorney, said the new dress code is a step in the right direction. "My hope is that we are able to not waste time in school addressing things that just don't matter," he said. Amen to that.
This article was originally published on