5 Reasons Why Second Babies Are The Lucky Ones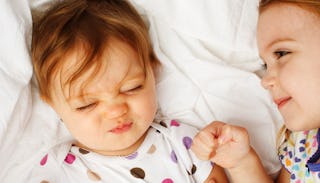 Shutterstock
You'll come across many lamentations about how subsequent children get the shaft. The first kid gets his own baby book, adoration from first-time grandparents, his every move and development captured in a picture or video… hell, he probably even got the benefit of minimal caffeine while in the womb. But really, there's no reason to pity your second baby. While she may not be as documented or exalted as the first, he or she benefits in many ways the first did not…
1. You're experienced now. Imagine this: your second baby, still in utero, has the chance to hire you as a mother either today, or the version of you from before you had your first. Do you think she'd hire the paranoid yet starry-eyed you of yesteryear who thought she'd need a Diaper Genie, or the seasoned, grizzled warrior you are now? Yeah, she'd hire you now because you know what the hell you're doing. You're already a swaddling, pumping, diaper changing, car seat installing black belt, adept at coping with overwhelming volumes of laundry. You're a one-handed goddess, capable of pouring Cheerios for Number 1 while Number 2 is straddled on your hip as you press her pacifier back into her mouth with your chin. And depending on how old your first kid is, you may not even remember what 4+ hour stretches of sleep feel like, so you've also transcended sleep deprivation. You may look like hell but damn if you don't know how to function on 5 hours of sleep per day.
2. Your partner is also experienced now. See that stalwart, bleary-eyed, slightly chubbier scruffy champion over there? He also used to be well-rested and overly panicky. He no longer asks (quite so) many inane questions about infants and does way more baby tasks without needing to be asked or having to be told how to do them. While he used to thrust your first child back into your arms at the first sign of restlessness, he now embraces baby-wearing. If the baby needs changing in the middle of the night, he's more likely to just suck it up and do it, knowing that he'll be back asleep more quickly this way… and would no longer naively incur your wrath by asking whether you can just do it since you'll be up feeding the baby soon anyway. Instead of each of you independently having to learn the ropes, now you're efficiently knocking out parental duties together.
3. You can enjoy the little moments. With your first you're so focused on survival (both yours and the baby's) and on hitting major developmental milestones that you're less likely to just relax and enjoy the small stuff. Your baby's head won't smell like that forever, and those socks that keep infuriatingly falling off those tiny feet will soon be too small. You may be frustrated that your baby won't sleep in a crib and will only sleep snuggled soundly on your chest, but you know that it won't be long before he starts to reject hugs because he's a big boy. With your second baby you can even appreciate diaper changes, because you know that in a couple brief years you'll be bribing her with marshmallows to avoid having to clean pee off the floor.
4. You worry less. When my son was a few weeks old, I tried to wake him up to feed him (I dumbly thought he had to eat every 2-3 hours or else) and he was in such a deep sleep that I panicked. If he had advanced mental and physical faculties at that age I imagine he'd call me an asshole for trying to wake him up because, well, babies are supposed to sleep a lot. With your first you might spend hours on the baby boards researching cradle cap, baby acne, diaper rash, normal poop, weight percentile charts, "wonder weeks," power pumping, growth spurts, and weepy eyes. Now, unless something seems really off and triggers the mental maternal warning system, the answer to almost everything with the second baby is, "She'll be fine." Worrying less about the second baby means a calmer, relaxed you who takes better care of the baby, even with the inevitable multi-tasking that goes with having more than one child.
5. You know the true potential of your love for your second baby. There are mothers who say they fell instantly in love with their babies at birth. Then there are those who don't immediately bond with their babies because perhaps they were born looking a little like a turkey vulture. Or, maybe they are all too aware that they just became responsible for almost every need of a new human being for the next two decades, a terrifying concept. And, despite the intimacy of pregnancy, this baby is in fact a complete stranger. Over time nearly all mothers become enraptured with their progeny, but with the second you're serenely confident knowing how much that love will grow. You're also more accepting of the tedium and difficulties associated with a newborn because in no time that baby will be paying you back with a mom's ultimate currency: smiles, coos, snuggles and hugs (wine is a close second).
Having a second kid triples the workload, which means you may not capture every moment on video or create a scrapbook of doctor reports and scribbles on construction paper. But there really is no need to feel sympathy toward your second child. Save your apologies for your third child – that's when the wheels really start to fall off.
Related post: 10 Things You Only Do With Your First Child
This article was originally published on