Dog Who Lost Her Pups Steps In To Feed Litter Who Lost Their Mom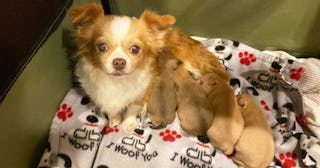 Secondhand Hounds/Facebook
This mom lost her litter then became a mom for other puppies in need
We all know moms can fix everything, and that means dog moms can too. This story will not only prove that fact but will restore your faith in humanity and, once you're done crying, may just have you rethinking whether you have room for one more furbaby.
Secondhand Hounds, a nonprofit animal rescue in Minnesota, is used to taking in animals of all kinds. They rescue dogs and cats from kill shelters around the Midwest and from owners who can no longer provide care for their pets. They got a truck full of dogs into their location this week, some of which came from commercial breeders. One pup named Rosa, they were told, recently lost her puppies who were born prematurely and none survived. At the same time, they got a second call that a mom who'd had puppies two weeks ago died suddenly from a seizure. The rest, they say, is history.
"Little miracles," the shelter shared in a post on Facebook. "6 days ago, her puppies were born premature. None of them survived. She's been a mom before, many times, so we can only assume she was confused. A little worried. She was still full of milk."
Founder and Executive Director Rachel Mairose tells Scary Mommy at the same time Rosa was in transit to their rescue, they got a call from a local reservation about a mom of similar breed (Rosa is a long-haired chihuahua), who died suddenly, "leaving behind 5 fat two week old puppies." She said when they receive puppies that young (they have a neonatal program so it happens often), they always try to bond them to a nursing mom of similar breed to "not overwhelm the mom."
"Introducing puppies to an adoptive mom is always a toss up. Some mommas smell other puppies and immediately decide not to accept them," they continued in the post. "Not this momma. You would have thought we gave her the 5 best presents ever. She started cleaning them. Letting them nurse. She dutifully snuggles them and counts them and loves them. They are her puppies now." I just cannot.
Secondhand Hounds takes in around 2500-3000 animals per year and has rescued over 20,000 since opening in 2009. "Our many volunteers have made a positive impact on the lives of many dogs and cats in our community," their website reads. "Our organization provides safe shelter, proper veterinary care, and daily necessities for animals at risk while working hard to find each a permanent, loving home!"
They also work with a network of foster families who love up on their animals until they're officially adopted. If fostering isn't a possibility, you can donate to the organization here or sponsor an animal by giving money for their care.
Mairose says Rosa and pups will be on their adoption website in a few months and are living with one of their foster families while she takes care of them and they grow a bit bigger (as you can imagine, they are getting a lot of calls). Secondhand Hounds only adopts out in the state of Minnesota and surrounding states, so if you don't live close, please consider donating if you can. The work they do is selfless and Mairose says in the near future their plan is to build a sanctuary so they can help even more animals.
For every shelter animal that doesn't have a happy ending like Rosa and her new puppies, we have the ones that do thanks to rescue organizations everywhere.
This article was originally published on