Bidi Bidi Bom Bom! A Selena TV Series Is Coming To Netflix
by Cassandra Stone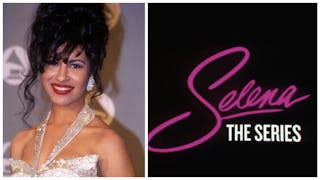 Image via Getty/Vinnie Zufante/YouTube
The new series is being created and produced with members of Selena's family
If you thought a creative representation of the life of Selena Quintanilla via 1997's Selena starring Jennifer Lopez was all we needed, think again. Netflix just announced they're developing a scripted TV show based on the pop star, and we are, in fact, screaming.
Selena Quintanilla was one of the biggest pop stars ever — she was lauded for her talent, her gorgeous looks, as well as her ability to successfully engage fans of Tejano music all over the world. She was murdered at the height of her career, and there's not a soul alive who hasn't wondered "what could have been" when it comes to her legacy, which remains strong more than 20 years after her death.
Netflix just released the teaser trailer to get fans excited about the show:
The new series will be developed and produced alongside members of the Quintanilla family. "Selena will always have a lasting place in music history and we feel great responsibility to do justice to her memory," Suzette Quintanilla, Selena's sister, says in a statement.
According to Netflix, the series will be a "coming-of-age story" that follows Selena's life and career, as well as her family life. It's currently being marketed as a two-part limited series.
While J.Lo did an amazing job portraying the famous singer — and launched a fabulous career for herself as a result of her talent and hard work — it'll be fascinating to see Selena's life told in a more docu-drama way and to hear from her real-life family members.
Of course, upon hearing this news, fans everywhere weighed in with their excitement.
https://twitter.com/jetpack/status/1072561069720264704
"With this series, viewers will finally get the full history of Selena, our family, and the impact she has had on all of our lives," Suzette says. "We are excited to partner with Campanario and Netflix to give fans a never-before-seen glimpse at our story and highlight why Selena will remain a legend for generations to come."
This article was originally published on