100+ Self-Care Quotes To Soothe Your Mind, Body, And Soul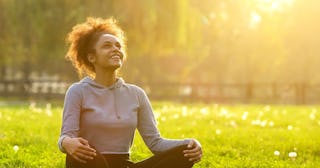 m-imagephotography/Getty Images
Self-care is an important part of our health and everyday lives. It's the necessary "me time" that is integral to the connection and function of your mind, body, and soul. We all need a little self-care sometimes because when we are able to take care of ourselves, we're able to take better care of the world around us. And nothing could be more important than that as the world and our communities face difficult times in the wake of the coronavirus outbreak. For some inspiration, we rounded up the best self-care quotes that will make you feel better about yourself and hit you like the warm bath and mani-pedi you deserve right now.
RELATED: 7 Mindfulness Activities for Adults (And Older Adults) To Do Alone Or In A Group
"Caring for myself is not self-indulgence, it is self-preservation, and that is an act of political warfare." – Audre Lorde
"Your well-being affects (and is affected by) those waves through small ripples of self-care and the decisions you make." ― Melissa Steginus
"Solitude is where I place my chaos to rest and awaken my inner peace." ― Nikki Rowe
"I love you but I got to love me more." ― Peggi Speers
"Self-care is never a selfish act – it is simply good stewardship of the only gift I have, the gift I was put on earth to offer others. Anytime we can listen to true self and give the care it requires, we do it not only for ourselves, but for the many others whose lives we touch." ― Parker Palmer
"Affirmations are our mental vitamins, providing the supplementary positive thoughts we need to balance the barrage of negative events and thoughts we experience daily." ― Tia Walker
"My mother always says people should be able to take care of themselves, even if they're rich and important." ― Frances Hodgson Burnett
"Be you, love you. All ways, always." ― Alexandra Elle
"When you can't find your purpose in a day, make it to look after yourself." ― Dodie Clark
"Rest and self-care are so important. When you take time to replenish your spirit, it allows you to serve others from the overflow. You cannot serve from an empty vessel." — Eleanor Brown
"As you grow older, you will discover that you have two hands, one for helping yourself, the other for helping others." — Maya Angelou
"Allow yourself to enjoy each happy moment in your life."– Steve Maraboli
"I am my own experiment. I am my own work of art." – Madonna
"With every act of self-care, your authentic self gets stronger, and the critical, fearful mind gets weaker. Every act of self-care is a powerful declaration: I am on my side; I am on my side; each day I am more and more on my own side."– Susan Weiss Berry
"Talk to yourself like you would to someone you love." – Brené Brown
"Lighten up on yourself. No one is perfect. Gently accept your humanness."– Deborah Day
"Be kinder to yourself. And then let your kindness flood the world." ― Pema Chodron
"Caring for your body, mind, and spirit is your greatest and grandest responsibility. It's about listening to the needs of your soul and then honoring them."– Kristi Ling
"Self-care has become a new priority – the revelation that it's perfectly permissible to listen to your body and do what it needs." ― Frances Ryan
"As important as it is to have a plan for doing work, it is perhaps more important to have a plan for rest, relaxation, self-care, and sleep." ― Akiroq Brost
"Self-care is how you take your power back."– Lalah Delia
"Find what makes your heart sing and create your own music." – Mac Anderson
"How do you define 'taking care of yourself'? Create a new self-care practice today. Observe your comfort level when it comes to being good to yourself. Discomfort is a wise teacher."– Caroline Myss and Peter Occhiogrosso
"When you accept you have to rescue yourself, then you're adulting." ― Sharon Pearson
"Don't sacrifice yourself too much, because if you sacrifice too much there's nothing else you can give, and nobody will care for you." – Karl Lagerfeld
"We need to replace your vicious stress cycle with a vicious cycle of self-care." – Dr. Sara Gottfried
"Learning to treat ourselves lovingly may at first feel like a dangerous experiment." – Sharon Salzberg
"When we give ourselves compassion, we are opening our hearts in a way that can transform our lives." – Kristin Neff
"[G]rowing into your future with health and grace and beauty doesn't have to take all your time. It rather requires a dedication to caring for yourself as if you were rare and precious, which you are, and regarding all life around you as equally so, which it is."― Victoria Moran
"Prioritise self-care & incorporate a MINIMUM of 60 mins 'ME TIME' into your daily routine. YES THERE ARE enough hours in the day. NO EXCUSES." ― Miya Yamanouchi
"When we self-regulate well, we are better able to control the trajectory of our emotional lives and resulting actions based on our values and sense of purpose."– Amy Leigh Mercree
"The love and attention you always thought you wanted from someone else, is the love and attention you first need to give to yourself."– Bryant McGillns
"Taking care of yourself doesn't mean me first; it means me too."– L.R. Knost
"Learning to love yourself is like learning to walk—essential, life-changing, and the only way to stand tall." – Vironika Tugaleva
"Self-care is taking all the pressures you are facing right now, and deciding to which you will respond, and how." ― Imani Shola
"Self-discipline is self-caring." – M. Scott Peck
"Be kind to your body, gentle with your mind and patient with your heart. Stay true to your spirit, cherish your soul and never doubt yourself. You are still becoming, my love, and there is no one more deserving of the nurturing grace of your love." ― Becca Lee
"Take the time today to love yourself. You deserve it."– Avina Celeste
"No more martyring myself."― Sharon E. Rainey
"There is enough time for self-care. There is not enough time to make up for the life you'll miss by not filling yourself up." — Jennifer Williamson
"The only person who can pull me down is myself, and I'm not going to let myself pull me down anymore." – C. Joybell C.
"It's not selfish to love yourself, take care of yourself, and to make your happiness a priority. It's necessary." – Mandy Hale
"You should endeavor to give your body what it needs to be healthy, your mind what it needs to be peaceful and focused, and your soul what it needs to feel content." ― Dedeker Winston
"Almost everything will work again if you unplug it for a few minutes, including you." – Anne Lamott
"I always give myself Sundays as a spiritual base of renewal—a day when I do absolutely nothing. I sit in my jammies or take a walk, and I allow myself time to BE— capital B-E—with myself." – Oprah Winfrey
"There's only one corner of the universe you can be certain of improving, and that's your own self."– Aldous Huxley
"When ill health shows up in your body, it is a wake up call to change your thinking, speaking, feelings or actions. Wellness – think and speak well, feel and do good for others and yourself. Wellness is created from being well within." ― Hazel Butterworth
"People who love themselves come across as very loving, generous, and kind; they express their self-confidence through humility, forgiveness, and inclusiveness."– Sanaya Roman
"Self-care is your fuel…Whatever the road ahead or the path you've taken, self-care is what keeps your motor running and your wheels turning." ― Melissa Steginus
"Sometimes the most important thing in a whole day is the rest we take between two deep breaths."– Etty Hillesum
"Self-care is a deliberate choice to gift yourself with people, places, things, events, and opportunities that recharge our personal battery and promote whole health—body, mind, and spirit."– Laurie Buchanan, PhD
"Do something nice for yourself today. Find some quiet, sit in stillness, breathe. Put your problems on pause. You deserve a break." ― Akiroq Brost
"Always make decisions that prioritize your inner peace." ― Izey Victoria Odiase
"Guard the doors of your temple, do not let anyone pollute it with their mess." ― Patricio Telman Chincocolo
"Love yourself enough to set boundaries. Your time and energy are precious. You get to choose how you use it. You teach people how to treat you by deciding what you will and won't accept." – Anna Taylor
"When you're constantly taking care of the emotions of others, you avoid having to face your own." ― Amy Chan
"Every morning, look in the mirror and affirm positive words into your life."― Lailah Gifty Akita
"Self-care is never selfish, but it may feel that way when you live a frenzied life." ― Arthur P. Ciaramicoli
"Self-compassion is simply giving the same kindness to ourselves that we would give to others. " – Christopher Germer
"Accept yourself. Love yourself as you are. Your finest work, your best movements, your joy, peace, and healing come when you love yourself. You give a great gift to the world when you do that. You give others permission to do the same: to love themselves. Revel in self-love. Roll in it. Bask in it as you would sunshine." – Melodie Beattie
"Taking pride in your appearance is not the same as vanity. It is vitally important that you understand the difference." ― M.A. Larson
"Invent your world. Surround yourself with people, color, sounds, and work that nourish you."– Susan Ariel Rainbow Kennedy
"Spending time alone in your own company reinforces your self-worth and is often the number-one way to replenish your resilience reserves." ― Sam Owen
"Self care is not a waste of time. Self care makes your use of time more sustainable." – Jackie Viramontez
"The Universe will never require you to set yourself on fire to provide heat for others." ― Clyde Lee Dennis
"a green juice is not self-care
if it's meant to starve not nourish. —moderation." ― Ashley Asti
"It's more than a bath; it's a transformative experience. You're searching for buoyancy in the soul, and spring in your step." ― Amy Leigh Mercree
"When I loved myself enough, I began leaving whatever wasn't healthy. This meant people, jobs, my own beliefs, and habits – anything that kept me small. My judgment called it disloyal. Now I see it as self-loving."– Kim McMilllen
"When you recover or discover something that nourishes your soul and brings joy, care enough about yourself to make room for it in your life." – Jean Shinoda Bolen
"Nourishing yourself in a way that helps you blossom in the direction you want to go is attainable, and you are worth the effort. " – Deborah Day
"To love oneself is the beginning of a lifelong romance." – Oscar Wilde
"Honoring your own boundaries is the clearest message to others to honor them, too."― Gina Greenlee
"One of the best ways you can fight discrimination is by taking good care of yourself. Your survival is not just important; it's an act of revolution."– DaShanne Stokes
"You are a VIP, a very important person so take care with self-care. If not you, who? If not now, when?"– Toni Hawkins
"Practice self-rescue first before you 'help' someone else." ― Maureen Joyce Connolly
"The Self Care Formula is simple-NITO(5R). Nutrients In & Toxins Out in the 5 Realms (Mental, Emotional, Physical, Environmental, Spiritual)." ― Nina Leavins
"Do something every day that is loving toward your body and gives you the opportunity to enjoy the sensations of your body." – Golda Poretsky
"Take time off…The world will not fall apart without you." ― Malebo Sephodi
"The thing that is really hard, and really amazing, is giving up on being perfect and beginning the work of becoming yourself." – Anna Quindlen
"Our physical, emotional, and spiritual health requires rest. We need to take a break. We need to nurture ourselves. To take a time out to refuel, rejuvenate, and revive ourselves." ― Dana Arcuri
"When you are compassionate with yourself, you trust in your soul, which you let guide your life. Your soul knows the geography of your destiny better than you do." – John O'Donohue
"You are here, alive and awake and for whatever reasons you have fought your battles, it's time to start focusing on what strengths pulled you up when the entire world had knocked you down.
That's where the virtue in self grows." ― Nikki Rowe
"Acknowledge, accept, and honor that you deserve your own deepest compassion and love."– Nanette Mathews
"There is no cowardice in removing yourself from a wildly unhealthy and unwinnable situation . . . You shouldn't feel like you have to play . . . you don't owe anyone anything. You don't have to be available to everyone. You can stop."― Scaachi Koul
"The world won't get more or less terrible if we're indoors somewhere with a mug of hot chocolate." ― Kamila Shamsie
"Harmony begins within. If we are to influence the world around us, even in minor ways, the real work begins inside and emanates outwards." ― Gudjon Bergmann
"If your compassion does not include yourself, it is incomplete." – Jack Kornfield
"The perfect man of old looked after himself first before looking to help others."– Chuang Tzu
"Your subconscious mind is paying attention to how you treat yourself." ― Sam Owen
"You aren't doing 'nothing' when you choose to put your wellbeing first. In fact, this is the key to having everything." ― Brittany Burgunder
Only you can allow yourself to explore the person in the mirror. Only you can coax yourself into a daring adventure to find your untapped potential." ― Vironika Tugaleva
"The value of self-care and self-love is often underestimated. It starts with you. You can't give what you don't have." ― Izey Victoria Odiase
"The only person you shouldn't be able to live without is you."– Chris McGeown
"Carve out and claim the time to care for yourself and kindle your own fire."― Amy Ippoliti
"Selfishness at the expense of others is bad. Self-care for the betterment of others is good." ― Richie Norton
"Remember that work and life coexist. Wellness at work follows you home and vice-versa. The same goes for when you're not well, fuelled, or fulfilled. Work and life aren't opposing forces to balance; they go hand-in-hand and are intertwined as different elements of the same person: you." ― Melissa Steginus
"Self-Care is the secret ingredient to Soldier care in a recipe that yields many servings of effective leadership."– Donavan Nelson Butler
"Self-care is allowing yourself to appreciate the moment for what it is, instead of wishing it was something else." ― Sharon Pearson
"We must clean the lens of our hearts to see the state of our souls. However, too often the former is too dirty to even know that the latter exists." ― Craig D. Lounsbrough
"Self-love for me means accepting who I am and dealing with the perceived flaws that I live with." ― Malebo Sephodi
"It is only when we feel deprived that we resent giving to others. Self-care does not mean you stop caring about others; it just means you start caring more about you. Start thinking about yourself more and others less. Since you have a choice between taking care of someone else, or giving to yourself, try choosing yourself sometimes." ― Beverly Engel
"Self-care should include the cold shower as well as the scented tub." ― Mary Catherine Bateson
"Sometimes you just need to be selfish to be self-sufficient." ― Lois P. Frankel
Much of your strength as a woman can come from the resolve to replenish and fill your own well and essence first, before taking care of others." ― Miranda J. Barrett,
"For those of you who struggle with guilt regarding self-care, answer this question: What greater gift can you give to those you love than your own wholeness?" ― Shannon Tanner
"If we truly loved ourselves, we'd never harm another. That is a truly revolutionary, celebratory mode of self-care." ― Sharon Salzberg
Read more inspiring quotes here.
This article was originally published on