Selma Blair Shows What It's Like To Parent With A Chronic Illness In Instagram Photo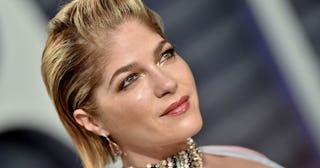 Axelle/Bauer-Griffin/FilmMagic
'I cannot imagine ever feeling okay again'
Last fall, Selma Blair revealed she was diagnosed with multiple sclerosis. At the time of her diagnosis, she'd already been suffering from symptoms for 15 years, because she felt it took that long for her pain to be taken seriously. Since then, Blair has been very candid about sharing the ups and downs of her life with MS. In her most recent Instagram post, she shares some heartbreaking truths about being a parent with a chronic illness.
"Here's a truth," she writes in the caption. "I feel sick as all hell." She can be seen lying down, cuddling a stuffed animal in the post. "I am vomiting and all the things which are not polite to speak of. My son ran away. From me."
She shared the image after receiving medical treatment for her MS, saying they "take their toll" and often make her sick. Parenting solo is difficult enough (Blair and her former husband divorced a few years ago and share custody of their son, Arthur). Having to parent through a chronic illness like multiple sclerosis is unimaginable for many of us who take our health for granted.
https://www.instagram.com/p/BwyC7aKnZlQ/
But she powers through it all — because she has to. As moms do. "I am going to get through this," she writes. "We do. This will pass. And to moms and dads who watch their kids sick on things we take to get better… I hold you. So glad this is me and not my child."
When she initially shared the news of her diagnosis, she explained what life was like with MS. "I am disabled. I fall sometimes. I drop things. My memory is foggy. And my left side is asking for directions from a broken gps. But we are doing it. And I laugh and I don't know exactly what I will do precisely but I will do my best."
While the exact cause of MS is still unknown, scientists believe the disease is triggered by an as-yet-unidentified environmental factor in a person who is genetically predisposed to respond. According to the National MS Society, multiple sclerosis involves an immune-mediated process in which an abnormal response of the body's immune system is directed against the central nervous system (CNS). The CNS is made up of the brain, spinal cord and optic nerves.
Having someone like Selma Blair use her platform to shed light on the reality of MS is remarkable. It offers the world a glimpse into what daily life is like for someone with a chronic illness who still works, maintains a full life, parents a young child, and also doesn't beat around the bush with how truly difficult and impossible some days can be. She shows the world that it's okay to not be okay.
"I cannot imagine ever feeling ok again. #roughday. We get through. #realitycheck." Her honest post was followed up by another photo from later in the day, where she says she "cleaned up" and "went out."
Sending so much love and light to Selma Blair and her family — we're grateful she chooses to share her journey with us, because it's so important for women, moms, dads, and others who live with illnesses every day to see her struggle and see her shine.
This article was originally published on