Senate Votes Unanimously To Allow Newborns On The Chamber Floor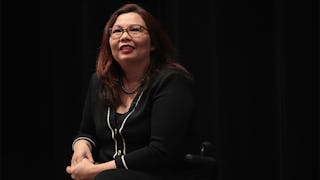 Image via Scott Olson/Getty
Senate unanimously agrees to allow newborns onto the chamber floor just in time for Tammy Duckworth to bring her baby
One huge, important step has been made for female senators. A new rule allows women to bring their newborns onto the chamber floor and they're allowed to breastfeed their babies while they're at it. So, basically, these women will no longer have to choose between caring for their child and fulfilling work obligations. A-freaking-men to that and it's about time.
This critical (and highly overdue) change is all thanks to Sen. Tammy Duckworth, who made history as the first female Senator to give birth while in office. She introduced a new rule that would allow babies under the age of one onto the Senate floor. All of her colleagues voted unanimously on the suggestion — though it wasn't quite the smoothest of sailing. Sen. Amy Klobuchar told CNN that there were some questions about whether diaper changing would be permissible, and if the newborns would be subject to a dress code. "It was quite a journey," she said.
Meanwhile, Duckworth is thrilled that this change has been made, and noted that the rule will "bring the Senate into the 21st Century."
"By ensuring that no Senator will be prevented from performing their constitutional responsibilities simply because they have a young child, the Senate is leading by example and sending the important message that working parents everywhere deserve family-friendly workplace policies," she said in a statement, per Huffington Post. "These policies aren't just a women's issue, they are a common-sense economic issue."
Oh yeah and speaking of baby dress codes, Duckworth already has some pretty cute (and Senate floor appropriate) ensembles picked out for her newborn in case the mother-daughter pair need to head in to work for a vote. If the duck print is not allowed, there really needs to be a whole other discussion. Duck prints belong just about everywhere.
The Twitterverse applauded Duckworth for (once again) making history. Also, they were really, really loving the onesie.
https://twitter.com/jetpack/status/987005562176065536https://twitter.com/jetpack/status/987005257874944000
This new rule won't just help working mothers out. It might also give Senate the kick in the pants it needs. "Perhaps the cry of a baby will shock the Senate at times into speaking out and even crying out on the issues that confront our nation and the world," Sen. Dick Durbin told CNN.
That sounds like an excellent idea. If they need any extra crying for motivation, I'm sure plenty of us wouldn't mind lending a baby or two.