Sephora Is Offering Free Makeup Classes To People Fighting Cancer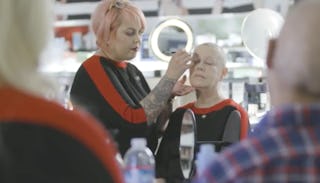 Image via YouTube
The classes will teach makeup tips for those undergoing chemo
Cancer and the treatments that fight it can cause unwelcome changes in a person's looks. It might sound like small potatoes compared to other concerns while fighting this awful disease, but looking good can make you feel good, and Sephora totally gets it. That's why they're going to offer free beauty classes for people going through cancer treatment so they can look their best — even if they're not feeling it.
According to Glamour, Sephora has a series of free classes for people undergoing major life transitions called Classes for Confidence, and their latest is geared toward those fighting cancer. The "Brave Beauty in the Face of Cancer" class will offer both men and women instruction on how to use makeup effectively while undergoing chemotherapy treatments.
Sephora employee (and cancer survivor) Emily says, "When I heard that these classes could be a possibility with Sephora, it hit me; maybe this is why I'm here and this is the reason why I survived." The video shows the classes being taught to those undergoing treatment. Class participant Amy says, "By having some confidence with things I can do with makeup, it'll help me get out and be with people I need to be with."
The round of classes will kick off on April 9th in select Sephora stores with the curriculum of the 90-minute sessions shaped by Sephora employees who have gone through cancer themselves. Participants will be taught skin care tips, how to improve skin radiance, how to create natural-looking brows (as chemo can cause brows to fall out) and methods for defining eyes.
Corrie Conrad, senior director of social impact and sustainability for Sephora, explains that the class will aim "to create a safe place for participants to learn and play with beauty, ask questions, and connect with others going through a similar situation." According to the Classes for Confidence website, 70% of those participating say their confidence increased as a result, so it sounds like it's working.
In another effort to make those going through treatment feel safe and welcome, Sephora employees who are cancer survivors will have the option of wearing a lapel pin with a heart logo so customers know they can talk to them about cancer-related beauty questions.
Huge kudos to Sephora for recognizing this need. Though the obvious goal of a person fighting cancer is to beat their disease, looking more like their pre-chemo selves can give an added boost of confidence in the process.