Hunger Action Month: Why It's Important And How You Can Participate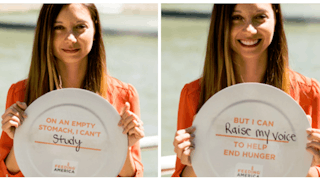 Feeding America
Hunger is not something most of us have to think about on a daily basis. And yet millions of our fellow Americans — women, men, and even children — struggle with hunger. In a country like ours, where food is thrown away and wasted every day, this is absolutely unacceptable.
And yet, according to the latest statistics from Feeding America, 1 in 8 people experience hunger, and food insecurity — a lack of consistent access to enough food for a healthy life — is experienced in every single county and congressional district in this country. This means that families everywhere, in all of our communities, are finding it difficult to afford enough food on a regular basis. Many end up trading off other basic necessities like medical bills and housing dues in order to put food on their tables.
This is not okay. We can — and must — do better.
And that is exactly what Feeding America, the nation's largest domestic hunger-relief organization, is on a mission to do. With a network of 200 food banks serving virtually every community in the greater U.S., they have deemed September "Hunger Action Month," and are calling on each and every one of us to raise awareness about hunger in America and take actions to end it.
It's all about discussing the issues, supporting your local Feeding America food bank, and taking any steps — big or small — in your own life to make a difference for the families in your community who struggle with hunger.
Here's how the team at Feeding America describe it: "Hunger Action Month™, which takes place each September, is a time when people all over America stand with the Feeding America nationwide network of food banks to fight hunger," they write. "Alongside all 200 Feeding America network food banks, we commemorate Hunger Action Month by spreading the word about hunger in our communities, volunteering, advocating, donating and helping raise awareness about hunger."
Totally awesome idea. Are you in? Let's do this thing.
First, Feeding America is asking us all to spread the word about this month on social media. You can go to this link, where you fill out a quick little form about what you're going to do to end hunger in America (donate, volunteer at a food bank, or email your member of Congress), and then, with a click, your message can be sent to your Facebook page so that your friends can join in and do the same.
Feeding America is also asking us to spread awareness through a photo action social media campaign. It's pretty simple: Think about what you can't do on an empty stomach (like concentrate on schoolwork, sleep, work, etc.), and write that down on a disposable paper plate. Then snap a picture of yourself and share it on social media using #HungerActionMonth and tagging @FeedingAmerica.
Additionally, consider going out and supporting your local food bank as they celebrate Hunger Action Month.
For inspiration, check out what the Second Harvest Food Bank of Santa Cruz County in Watsonville, California, did to commemorate the month. They used a superhero theme, and each dressed up as "Hunger Action Heroes."
Don't you just love it?
Foodlink, a food bank in Rochester, New York, also had an incredible idea for how to honor the month. They set up 156 orange plates on their front lawn, each representing 1,000 people in their community who face food insecurity (for a total of 156,000 people). Check out this time-lapse video of their fantastic volunteers setting up the display.
Whatever you do to help, remember that each small thing adds up and can make a huge difference for the families who are struggling. It's about time that we all take this issue with utmost seriousness and that we do everything in our power to make sure that none of our children go to sleep with an empty stomach, and that no family has to worry about where their next meal is going to come from.
This article was originally published on