Serena Williams & Daughter Olympia Slay In Stuart Weitzman Campaign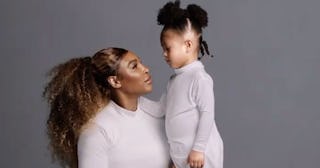 STUART WEITZMAN/Instagram
Olympia is Serena Williams' "mini me" in gorgeous Stuart Weitzman campaign
Alexis Olympia Ohanian Jr. is more accomplished at three years old than most of us are as grown adults. The adorable tot joined her mom, legendary tennis champ Serena Williams, in a new ad campaign for Stewart Weitzman called Footsteps to Follow. This is the duo's first fashion campaign together and hopefully, not the last.
The photos feature the momma-daughter pair posing together in twinning ensembles, with Williams showcasing the brand's spring 2021 line.
"I'm so happy to be starring in the new @stuartweitzman Spring 2021 campaign with @olympiaohanian, my mini-me, my mini-Serena," Williams captions an Instagram post featuring a photo of the pair in matching white dresses. "I love that it's called #FootstepstoFollow because she inspires every step I take and I hope I inspire her, too. Because while I try to teach her how to be a positive influence, she in fact teaches me how to be a stronger person every day. It's the best part about being a mom."
The brand shared videos of two together, just being absolutely precious. No big deal.
In one clip, Williams refers to her daughter as her "mini me" and honestly, it's undeniable. "Being on set with Olympia meant so much to me, and it is a moment together I will never forget," she says. "She is Mini Serena! She's so cute and she's so fun." Yup, she 100 percent is both of those things.
According to Stuart Weitzman, the shoot took place at Williams' home, which might explain why Olympia appears so happy and comfy being America's next top model while still preschool-age. "Olympia buzzed with excitment as she spent the day with her mom posing for photographs, dancing together to a soundtrack of hip hop beats and '90s hits and dressing up in mom-and-me outfits," they share alongside a series of photos of the two being ridiculously cute together.
Of course, these photos are far from the only time Williams has shared her daughter with the world. Luckily, her Instagram account features many cute updates about Olympia including tennis practice. She did say she's her momma's mini me, after all.
Aside from modeling, it wouldn't surprise the world one bit if this kiddo followed in her amazing mom's footsteps. Goodness knows she has the best possible teacher.
But until Olympia is ready to win her own matches, she's busy being Williams' #1 fan. Just a little girl looking up to arguably the most talented athlete of all time, who just happens to be her mother.
It honestly doesn't get any better than that.