Serena Williams's New Commercial About Girls In Sports Will Leave You In Tears
by Valerie Williams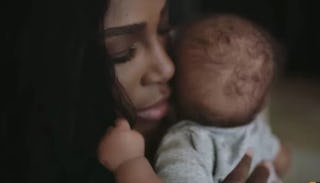 Image via Twitter/Gatorade
Williams tells her daughter all about what sports can do for her one day
Serena Williams is a world-class, kickass athlete. She's also a new mom to a beautiful baby girl, and if her latest ad for Gatorade is any indication, becoming a parent has helped Williams view sports in a whole new light.
In an absolute tearjerker of a commercial, Williams cradles a baby (not her own, little Alexis Olympia was feeling sick that day, so another baby stood in for her) and tells her all about the power and magic of being a girl in sports. The message is focused on all girls, but in the nearly 2-minute spot, Williams is talking only to her daughter — and it's freaking beautiful.
It opens with Williams soothing the baby and a voiceover of her explaining that she doesn't mind if her daughter one day shares her love of tennis.
"Baby girl, I won't mind if you play tennis badly. I won't mind if you choose to never pick up a racket. But I beg you, in this game of life, please keep playing no matter what."
As a lapsed high school athlete, this had me in instant tears. The message for the entire clip is how much that camaraderie matters — and that winning is only scraping the surface of what sports can mean for a girl as she grows up.
The ad is part of a new campaign called "Sisters in Sweat" that focuses on encouraging girls to stay involved in sports, even if they don't have the talent of Serena Williams, and zero plans to make it their career one day. Because as the ad proves, it's about so much more than going pro.
With a slowed down version of Alicia Keys' hit "Girl On Fire" being hummed by a young female voice in the background, Williams continues to tell her little girl about what sports will do for her one day.
"Just like it taught me, sports will teach you to be strong. You'll discover the power and grace of your body. You'll learn to move and you'll learn the way to move others. Sports will teach you the strength of your allies. Whether your bond is by blood or by ball. Whether she shares the color of your skin or the color of your jersey.
"You'll find your sisters in sweat."
My middle and high school soccer teams were my absolute world. We were best friends, on and off the field. When we lost the state championship my junior year thanks to my missed penalty kick in an attempt break a game-long scoreless tie, we all sobbed together at the homecoming dance later that night. We won together. We lost together. And everything in between. So much of what we learn in sports can be applied not just to our relationships, but to our school life and future careers.
It's hard to overstate what playing a sport can teach us, but Williams tries to sum it up.
"Sometimes you'll score goals, sometimes you won't, but the goals you set you'll reach together. You'll find the courage to stand tall. Work harder. And speak louder on whatever playing field you choose in life," she says, as images of successful women from their days in youth and high school sports are shown. They include designer Tory Burch, actress Allison Williams, Teen Vogue Editor-In-Chief Elaine Welteroth, YouTube CEO Susan Wojcicki and Refinery29 co-founder Piera Gelardi.
Williams' message to her daughter, and all girls, is simple.
"So keep playing, my girl. Keep playing."
And we'll keep sobbing.
This article was originally published on