Serena Williams Is A Freaking Goddess, And Here's Why
by Sa'iyda Shabazz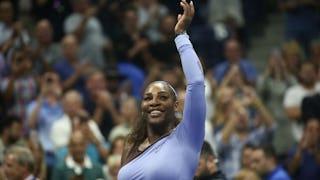 Anadolu Agency / Contributor / Getty Images
I can still remember when I was about 12 years old and saw Serena Williams play tennis for the first time. She wasn't much older than I was, and I was just amazed by her. She was a powerful player, her body was strong and muscular, her serves were killer, and I thought she was about the coolest woman ever.
She had cornrows with all the beads at the end, and even though I'm a black girl, I wondered if I could ever pull that look off like she did.
I don't understand tennis (despite both of my parents trying to explain it to me almost every time we watch together), but if Serena Williams is playing and I have access to a television, you better believe I'm watching. Because she is someone I've looked up to all these years. Serena Williams is a fucking badass, and I will never have anything but undying love and admiration for her.
This year, Serena Williams returned to the game of tennis after taking some time off after the birth of her daughter, Olympia. And in spite of injuries and personal issues, she has been killing it on the court. She's also been killing it as a wife and mother and human.
Here are just a few of the reasons we absolutely adore Serena:
1. She has a killer fashion sense.
The girl can DRESS, on and off court. Starting with the aforementioned beads back in the '90s, she has eschewed the convention of tennis whites. Over the years, she has been body shamed for things like her broad shoulders and muscular body. Hello, she's a fucking tennis player. But since she's not demure and slim-bodied like many of her competitors, people (read: men) seem to take issue with her body. So in a big "eff you," she has chosen to wear some amazing outfits while competing, including her badass tutus from this year's U.S. Open.
Off court, she is known as a style icon as well. In April 2015, she was the first black female athlete to have her own solo cover of Vogue. She graced the cover again earlier this year with her daughter. Serena has also had several clothing brands, including her most recent, the self-titled Serena. To usher in its arrival, she wore her now controversial (but also life saving) black catsuit at the 2018 French Open. And please, let's bask in the glow of her slaying it at the wedding of her friend Meghan Markle, the Duchess of Sussex.
2. She is an amazing athlete.
Whether you like it or not, Serena Williams has proven time and time again that she is the best tennis player of all time. She holds the most Grand Slam titles combined in all forms: singles, doubles and mixed doubles. She has won 23 singles titles alone, one of those being the 2017 Australian Open, which she won when she was approximately eight weeks pregnant.
She also has an Olympic gold medal for singles and three for doubles. Her sister, Venus, has always been her doubles partner, and they have 14 Grand Slam doubles titles. And she has been the number 1 women's tennis player in the world eight times between 2002 and 2017. She and Venus made the sport of tennis interesting and accessible for many women, especially women of color.
3. She is open about her struggles with motherhood.
Let's be honest, motherhood isn't easy, especially when you're a first-time mom. Social media has created a place for the false narrative that the early days of motherhood are this magical utopia. Serena has really played against that narrative, using her social media platforms to not only talk about the hardships of being a first-time mom, but also being a working mom.
Because she's a celebrity, some people assume she doesn't deal with the same struggles all of us moms do. But she has made it absolutely clear that she does. She reminds us that there are days when she feels like she's failing too, and she doesn't shy away from talking about them.
4. She fights for what she believes in.
If you've been paying attention to the news recently, then it's likely you've seen stories about Serena's controversial loss at the 2018 U.S. Open. The chair umpire, Carlos Ramos, gave Williams three violations in the second set of the final against Naomi Osaka, who is also a woman of color. After accusing her of receiving off-court coaching via hand signals, she was understandably frustrated and broke her racquet, which cost her another violation. After rightfully calling Ramos "a thief," she was given her third and final violation, which ultimately cost her the game. In the post-game press room, she had no problem calling him out for his bullshit.
"I've seen other men call other umpires several things. I'm here fighting for women's rights and for women's equality and for all kinds of stuff. For me to say 'thief' and for him to take a game, it made me feel like it was a sexist remark. He's never taken a game from a man because they said 'thief.'"
She also has no problem addressing all the sexist garbage that women athlete's face all the time.
"For me, it blows my mind. But I'm going to continue to fight for women and to fight for us to have equal — like, Cornet should be able to take off her shirt without getting a fine. This is outrageous."
Because she's not only a woman, but a black woman at that, she is often treated with a much harsher hand. Just like this tweet about how often she is drug tested. An athlete as good as she is doesn't need performance enhancing drugs, but no one will believe that she's naturally talented and works hard to hone her skills.
Serena Williams has proven time and time again why she is the Greatest Of All Time. She is beautiful, strong as fuck, and a total inspiration who constantly reminds us why she's still at the top of her game. She isn't going to just fade away because people want her to. Keep shining, bright girl!
This article was originally published on