Serena Williams Nails How Damn Hard It Is For Moms To Find Balance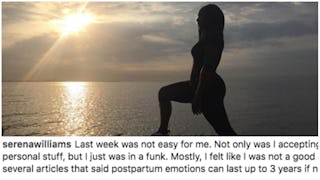 Image via Instagram/Serena Williams
Serena Williams takes to Instagram to talk balancing life as a mom and world-class athlete
Serena Williams is an incredible world-class athlete and role model for girls and women everywhere. She's also a mom and that means juggling her larger-than-life career while also caring for and bonding with her baby girl. In a recent Instagram post, Williams opened up about how tough it is to achieve that motherhood holy grail of balancing your own life and being present for your kids.
Alongside a gorgeous photo of herself standing on a cliff at sunset, Williams shared some very honest thoughts on mom guilt, postpartum emotions, and the desire to do your best both as a parent and in your own life as a woman/adult person.
"Last week was not easy for me. Not only was I accepting some tough personal stuff, but I just was in a funk. Mostly, I felt like I was not a good mom," she writes.
And who among us hasn't been there? It seems that whenever I'm happy with my performance at work I'm not super thrilled with how I'm doing as a mother. Keeping all the balls in the air is hard, even when you're literally one of the world's best tennis players. See what I did there? Sorry I'm like this.
Williams shares that she's read about postpartum emotions lasting up to three years — and the way she copes with it all. "I like communication best. Talking things through with my mom, my sisters, my friends let me know that my feelings are totally normal," she writes.
It seems she's realized a solid truth of motherhood before her baby's first birthday, which is much sooner than the five years or so it took me. "It's totally normal to feel like I'm not doing enough for my baby."
It is. Because as parents, it never really feels like enough, does it? Not only is the love we have for our little ones completely overwhelming, but society tells moms in particular that they need to do it all. And sometimes, that's just not possible.
This also isn't the first time Williams has been open about the guilt she feels as a working mom. She took to Twitter recently to share her sadness about missing baby Olympia's first steps.
She definitely gets it.
"We have all been there," she says. "I work a lot, I train, and I'm trying to be the best athlete I can be." And that means Williams isn't around for her daughter as much as she would like to be. "Most of you moms deal with the same thing. Whether stay-at-home or working, finding that balance with kids is a true art. You are the true heroes."
Ugh, could I possibly love her more?
She signs off giving us all a little hope. Because if Serena Williams has these struggles, it makes it a little easier to accept our own. "I'm here to say: if you are having a rough day or week–it's ok–I am, too!!! There's always tomm!"
This article was originally published on