Internet Slams 'Double Standards' In U.S. Open After Serena Williams Gets Penalized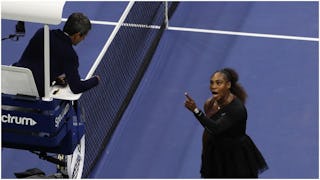 Image via Jaime Lawson/Getty
Serena Williams was penalized for having high emotions during the U.S. Open
The U.S. Open match on Saturday between Serena Williams and Naomi Osaka was packed with emotion, tears, and ridiculous double standards. Williams was handed three code violations, two of which were given for getting heated on the court, and lost the game as a result. People on Twitter were quick to point out that male tennis players don't face the same consequences for getting angry during a game.
The trouble first started when the chair umpire Carlos Ramos issued Williams a code violation for coaching signals. She got frustrated and broke her tennis racket on the court, which earned her another violation. Williams then called Ramos a "thief" which cost her a third and final violation, and ended the game.
People quickly took to social media to point out that male tennis players do not suffer the same consequences when they get emotional or heated on the court. Many pointed out that men have called umpires a whole lot worse than "thief." Others noted that while it did look like Osaka would have won the game, Williams deserved to lose fairly.
Tennis legend Billie Jean King weighed in and summed the issue up perfectly.
As a side note: it was a painful, uncomfortable moment when Williams and Osaka took to the stage after the game. The crowd booed, Osaka was crying, and Williams was upset. But then in a beautiful moment of solidarity, Williams put her arm around Osaka to comfort her and all the ugliness disappeared for a moment.
It's not the first time Williams has been subjected to sexism on the court, and it surely won't be the last. Williams stood her ground at a press conference afterward and noted that what happened during that match was indeed a double standard.
"I'm here fighting for women's rights and for women's equality and for all kinds of stuff. For me to say 'thief,' and for him to take a game, it made me feel like it was a sexist remark. He's never taken a game from a man because they said 'thief,'" she said. "For me, it blows my mind. But I'm going to continue to fight for women."