Serena Williams Shares Pictures And Video Of New Baby Girl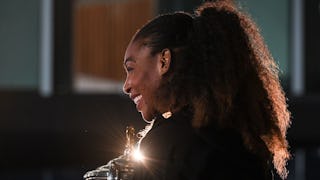 Image via WILLIAM WEST/AFP/Getty Images
The video is for their little girl to watch someday — and it's adorable
Almost two weeks ago, tennis phenom and all-around goddess Serena Williams gave birth to her first child, a baby girl. Now, the star athlete and her husband have released their daughter's name and a sweet video documenting the pregnancy and birth where they talk to their little girl about life before her arrival.
Get ready to gush, because this is simply too much to take.
Williams and her fiance, Reddit co-founder Alexis Ohanian, shared the video on his YouTube page, and it's so unbelievably perfect you'll wish you'd done it for all of your births too.
The couple also posted a gorgeous first photo of mom and baby on Instagram this morning.
Her name is Alexis Olympia Ohanian, Jr., and the couple jokes in the video that she already has a Grand Slam title, a nod to the fact that Williams was early in her pregnancy when she won her 23rd title this year.
Throughout the video, Williams' journey to baby is documented with the couple adding in tidbits of information directed at their daughter. From what size fruit she was in the womb at various points ("a blueberry!") to how beautiful Ohanian thinks Williams is, their baby girl will learn plenty after watching this footage.
They tell her all about her uterine gymnastics habits.
Her "siblings," who are eagerly awaiting her arrival.
And how her Dad loved feeling her kick.
Williams also imparts the knowledge that Alexis' dad is "a real nerd." It's literally too much cuteness to handle.
At the video's end, the parents share that there were "a lot of complications" with Alexis' birth, but that after six days in the hospital, all was well and they got to go home.
We can't wait to hear and see more about this adorable family as little Alexis gets older and realizes, along with the rest of us, that her mom is an absolute boss.
This article was originally published on