Serena Williams Withdraws Due To Injury In First-Round Wimbledon Match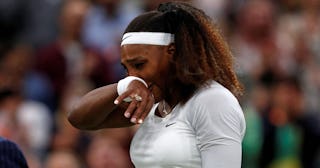 ADRIAN DENNIS/AFP via Getty Images
The greatest tennis player of all time faced a devastating injury mid-match
Serena Williams, arguably the greatest tennis player of all time, retired from her first-round match at Wimbledon on Tuesday due to a leg injury.
Williams slipped and sustained an injury, taking a timeout at the end of the game to receive treatment. Later, as Williams returned to the court, she returned with limited mobility.
As Williams served in the fifth game, she lost her footing and slipped again, ESPN reports. The tennis great took a medical timeout and did her best to continue play. A visibly upset Williams covered her face between points as the crowd tried to offer support and encouragement. But eventually, the injury was too much: Williams dropped to her knees, and the chair umpire hurried over to check on her.
The match ended at that point. An emotional Williams, at Wimbledon in search of her 24th major title, waved to the crowd and held her hand over her heart as she exited the court — a raw moment that was incredibly difficult to watch. A win at Wimbledon would have tied Williams with Margaret Court for the most ever.
Williams posted on Instagram after her withdrawal.
"I was heartbroken to have to withdraw today after injuring my right leg," she wrote. "My love and gratitude are with the fans and the team who make being on centre court so meaningful. Feeling the extraordinary warmth and support of the crowd today when I walked on — and off — the court meant the world to me."
Williams was the second player on Centre Court on Tuesday to slip and suffer an injury. Adrian Mannarino, who was playing against Roger Federer, also was forced to retire as a result of a similar fall. Novak Djokovic fell twice in the first set of his first-round victory Monday in the main stadium, too.
"I do feel it feels a tad more slippery maybe under the roof," Federer said after his match. "I don't know if it's just a gut feeling. You do have to move very, very carefully out there. If you push too hard in the wrong moments, you do go down.
"This is obviously terrible that it's back-to-back matches and it hits Serena as well. Oh, my God, I can't believe it."
Fans hope this injury doesn't mark the last of the tennis great's career, as Williams' career deserves a more storied ending.
The All England Lawn Tennis & Croquet Club released a statement about the condition of the courts.
"The preparation of the grass courts has been to exactly the same meticulous standard as in previous years," the statement read. "Each grass court is checked by the Grand Slam Supervisors, Referee's Office and Grounds team ahead of play commencing, and on both days of the Fortnight they have been happy with the conditions and cleared the courts for play.
"The weather conditions on the opening two days have been the wettest we have experienced in almost a decade, which has required the roof to be closed on Centre Court and No.1 Court for long periods. This is at a time when the grass plant is at its most lush and green, which does result in additional moisture on what is a natural surface. With each match that is played, the courts will continue to firm up."