'Sesame Street' Muppets Celebrate The Show's 50th Anniversary With Adorable Tweets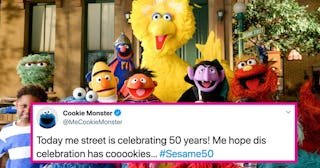 HBO
Sesame Street celebrates its 50th anniversary with a TV special, and the Muppets even tweeted out their excitement
Generations of kids have grown up on Sesame Street. It's a beloved TV program most of us watched after school, learning all about life, love, loss, and letters. The characters feel like family; and now, in celebration of the program's 50th anniversary, the Muppets themselves are getting in on the fun by tweeting out their own excitement over the milestone.
Sesame Street has been on the air for 50 years, and while they've introduced even more furry friends over the years, the main crew includes fan favorites like Big Bird, Elmo, Cookie Monster, Grover, The Count, and Bert and Ernie, to name a few. Not many shows have spanned across five decades, and that's reason enough to celebrate.
In celebration, our favorite Muppets have been tweeting out their own reactions to the anniversary, and they are adorably true to form for their characters. I was unaware the Muppets had their own Twitter pages but have promptly corrected my error by following all of them ⁠— as you should probably do as well, so we collectively never miss breaking Sesame Street news again.
Sesame Street has been one of the most iconic children's programs because, in addition to keeping our kids occupied with good, wholesome content, the show has taught kids and adults alike how to deal with everything from how many chocolate chip cookies are acceptable in one sitting (I stand firm at five) to how to deal with some of life's bigger issues.
In May 2019, Sesame Street introduced its newest Muppet, Karli. She lives in foster care and is cared for by her "for now" parents following her mom's battle with addiction. And, in December 2018, the show introduced viewers to its first homeless muppet, Lily. Lily had been on the show since 2011 but, in a response to the rise of homelessness, the show chose to have her tackle the important topic, admitting to Elmo she doesn't have a home.
Fifty years ago, iconic entertainer Carol Burnett appeared on the very first broadcast of the TV program and so many more have followed in her footsteps. HBO did its part to celebrate the show's anniversary, airing a special titled Sesame Street's 50th Anniversary Celebration, a 45-minute special that aired on Nov. 9. Joseph Gordon-Levitt hosted the special that included a star-studded cast, including Whoopi Goldberg, Sterling K. Brown, Meghan Trainor, and many others. Fans got to see Big Bird, Elmo, and even Kermit the Frog, due to come back to Sesame Street for the first time in a decade, CNN reports.
Of course, the Muppets themselves weren't the only ones excited about the anniversary. Many other fans and organizations supporting the show tweeted out their congratulations as well.
If we ever needed a reason to celebrate, it would be because of everything Sesame Street has given us. Here's to another 50.
This article was originally published on