Sesame Street Introduces Julia, A 4-Year-Old With Autism
by Maria Guido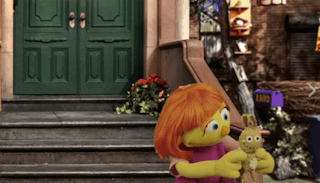 Sesame Street introduces a character with autism
A new character is joining the beloved Sesame Street crew. Her name is Julia, and she's a four-year-old girl with autism.
Julia was first introduced in 2015 as part of an online-only Digital Storybook story called "Sesame Street and Autism: See the amazing in all children." In the story, she had a playdate with Elmo and Abby. She's now set to become a regular on the show, starting in April.
In a 60 Minutes interview with the cast, Big Bird explains that he thought Julia didn't like him because she was hesitant to shake his hand. Elmo explains that since Julia has autism, "sometimes it takes her a little longer to do things." The cast describes how they are learning to understand each other, so everyone can have fun. They learn that some people do things differently, and that's okay. What a wonderful message for kids.
Rollie Krewson has been with Jim Henson's company since the 1970's. She's a puppet designer referred to as "Elmo's mom," and created Julia with attention to even the smallest detail. "Her eyes had to be a certain way because she has to have an intense look, but she has to look friendly," Krewson told CBS "Her hair had to be made so that her bangs weren't in her eyes and that her hair didn't fall into her mouth. And she couldn't have any adornments in her hair—no barrettes, no ribbons."
And Stacey Gordon, the puppeteer who plays Julia, isn't just an actress: she's a mother to a child with autism. "As the parent of a child with autism, I wished that it had come out years before, when my own child was at the 'Sesame Street' age," Gordon told CBS.
Show writer Christine Ferraro admits that deciding how to portray Julia was challenging. "It's tricky because autism is not one thing, because it is different for every single person who has autism," Ferraro told 60 Minutes. "There is an expression that goes, 'If you've met one person with autism, you've met one person with autism.'"
This article was originally published on