Sesame Street Introduces A Muppet In Foster Care
by Christina Marfice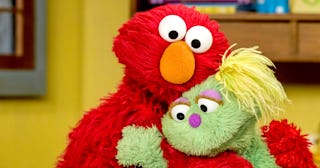 Sesame Street/Twitter
There's a new neighbor making Sesame Street even more inclusive
In another effort to make sure all kids can see themselves represented onscreen, Sesame Street just introduced a new character. Her name is Karli, and she's in foster care.
Karli and her "for-now" parents Dalia and Clem made their debut on the Street this week, and we already know this sweet new muppet will be a fantastic addition to the show.
Karli is part of the "Sesame Street in Communities" program, which is designed to create and provide free resources for community providers and caregivers who work on tough issues like homelessness, divorce, grief and traumatic experiences. All the "Sesame Street in Communities" resources are free and available in multiple languages, and honestly, Sesame Street is just too good and pure for this world.
In addition to appearing on the show, Karli is featured in YouTube videos for the program so more kids can see her online. In one video, called "On Your Team," Elmo's dad, Louie, chats with Dalia and Clem about the experience of being foster parents.
"Well, changes like this can be really rough for kids and for adults too," Clem explains.
Dalia adds, "It's had its ups and downs. But no matter what, we try to let Karli know we are always here for her."
If that isn't just the exchange that a real-life kid in foster care needs to hear, we don't know what is.
Other videos show Karli interacting with her foster family and the other residents of her new street, talking to Elmo about her heartbreak and wondering if she'll have a place at her foster family's pizza party.
It's pretty heavy stuff, but it's stuff real kids deal with, and seeing it all portrayed onscreen in such a positive way will only be good, both for kids who are in foster care and need to hear these messages, and kids who have more to learn about the foster care system.
"Fostering a child takes patience, resilience, and sacrifice, and we know that caring adults hold the power to buffer the effects of traumatic experiences on young children," Dr. Jeanette Betancourt, senior vice president of U.S. Social Impact at Sesame Workshop, said in a press release. "We want foster parents and providers to hear that what they do matters — they have the enormous job of building and rebuilding family structures and children's sense of safety."
This is just the latest way that Sesame Street is representing more kids and making its cast of characters more inclusive. In 2017, the show introduced Julia, a new 4-year-old character with autism. In episodes of the show, other characters learned how to play with and love Julie, embracing autism along the way.
These kinds of storylines will make PBS's youngest viewers more empathetic and open to the world. And they'll give kids a positive place to learn that our differences don't need to divide us — they can actually be what make us the most special.
This article was originally published on