Sesame Street Is Teaching Kids 'How To Hug' Their Friends With Autism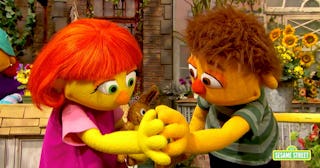 Sesame Street
Sesame Street is releasing new autism resources for April, and they're wonderful for all kids and adults
It's Autism Awareness Month, and to celebrate, Sesame Street and the Sesame Workshop are rolling out lots of new resources related to their character Julia, a four-year-old with autism, and her family. One of the best videos shows the girl and her big brother, Samuel, teaching others how you can "hug" someone with autism who may not like big, traditional hugs.
Among the super-cute and practical options? A "starfish hug" (in which you spread out your hand like a starfish and touch fingertips), a "fairy hug," and a "butterfly hug," all easy for kids to learn and understand.
As you probably know, Sesame Street has a pretty consistently long and awesome track record of teaching kids about diversity, as well as making kids feel included and welcomed. It also has a long history of tackling tough subjects that even grown-ups have trouble handling.
Sesame Street introduced Julia digitally back in 2015, when they originally announced a new autism initiative, aimed at being more inclusive to kids on the spectrum, as well as at education and awareness for everyone. She appeared in her first episode of Sesame Street two years ago, and is starring in even more scenes and segments this month.
"We hope to show the challenges — but also all the similarities — that a family like Julia's faces in everyday life," said Dr. Jeannette Betancourt, the vice president of social impact for the Sesame Workshop.
One of the biggest debuts this month isn't the hug video, but a video that introduces the rest of Julia's family: her parents, Elena and Daniel, her big brother, Samuel, and her super-adorable companion dog, Rose.
"We're thrilled to expand Julia's world with her parents, big brother, and her adorable dog, Rose, in our new resources" said Sherrie Westin, President of Global Impact and Philanthropy. "Children with autism often face unique challenges, as do their parents and siblings. But every family faces challenges of some sort, which is why we are focusing on what all families have in common. In a family, everyone has different roles, challenges, and strengths, and everyone can learn from one another."
Other new original Julia content can be found online, and includes videos of Julia getting her first haircut, Julia blowing bubbles with her friend Abby, and Julia teaching kids about all the different ways you can say hello. All of the content is great about focusing on what makes us the same instead of what makes us different, and on celebrating our differences instead of hiding them.
Maybe Elmo is the one who said it best, in one of the new videos: "Julia has autism, and that makes Julia different. But it's really cool that everybody's a little bit different but same, too."
The videos, like the haircut episode, not only cover what a non-neurotypical kid might struggle with in certain situations, but also what their family might experience.
Aside from videos, there's also two interactive online activities, three online storybooks, and a list of "printables" that you can share with your child. Kids are encouraged to draw similarities, celebrate differences, and to have empathy and understanding.
There are also super great resources for parents, including behind-the-scenes videos, printables, and an autism-specific newsletter for parents, family, friends, and educators – basically anyone who wants to learn more about autism, kids, and inclusion.
Basically, Sesame Street sees how important it is to continue to diversify their cast and how important it is that all kids are understood and included.
"Given the growing number of children who were diagnosed with autism, we created Julia largely because here would be a character who children could relate to who had autism," said Westin in one of the videos. "But we also knew how important it was to help all children and all families have a greater understanding of autism."
That's something we can all starfish hug about.
This article was originally published on