A Student Loan Watchdog Just Quit Because Of The Trump Administration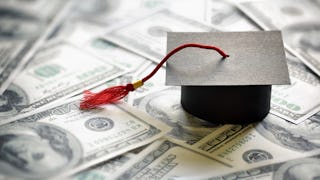 Image via BrianAJackson / Getty Images
Seth Frotman has protected borrowers of student loans for seven years. Under Trump, he says he can't anymore
For seven years, Seth Frotman has served as the assistant director and student loan ombudsman for the Consumer Finance and Protection Bureau (CFPB). His job there? To fight for the rights of student borrowers, and protect us all from the dangers of predatory student loans.
He just stepped down, and at the same time, wrote a scathing letter about how the Trump administration is the reason he can't do his job anymore. Basically, he wrote, the administration has been undercutting the authority of the CFPB, instead favoring the interests of the financial institutions that trap students in our broken student loan system. That's pretty alarming, considering the CFPB was created by Congress after the 2008 financial crisis as part of the Dodd-Frank Wall Street Reform and Consumer Protection Act, meaning its sole purpose was to hold financial institutions accountable and protect consumers and ensure another crisis like that never happens again.
"Unfortunately, under your leadership, the Bureau has abandoned the very consumers it is tasked by Congress with protecting," Frotman's letter reads. "Instead, you have used the Bureau to serve the wishes of the most powerful financial companies in America."
Frotman details the way the administration has stood in the way of the CFPB's ability to provide the same routine oversight it has for seven years, and how its leadership "has abandoned its duty to fairly and robustly enforce the law."
It continues, "The current leadership of the bureau has made its priorities clear — it will protect the misguided goals of the Trump Administration to the detriment of student loan borrowers. For nearly seven years, I was proud to be part of an agency that served no party and no administration; the Consumer Bureau focused solely on doing what was right for American consumers. Unfortunately, that is no longer the case."
In a final point, Frotman claims the CFPB, under its current leadership, is "shielding bad actors from scrutiny," and "has turned its back on young people and their financial futures… For example, late last year, when new evidence came to light showing that the nation's largest banks were ripping off students on campuses across the country by saddling them with legally dubious account fees, Bureau leadership suppressed the publication of a report prepared by Bureau staff. When pressed by Congress about this, you chose to leave students vulnerable to predatory practices and deny any responsibility to bring this information to light."
Yeah, it's pretty damning stuff.
Considering student loans now comprise the second-largest percentage of all consumer debt, behind only mortgage debt, this is, frankly, scary. Student loans are a $1.5 billion crisis preventing young people from creating stable futures for themselves. We need people like Frotman who are passionate and dedicated to reforming the industry. But his letter makes it clear that even the best intentions aren't enough to stop the damage the Trump administration is intent on causing to our futures.