Seth Meyers And Alexi Ashe Welcome 2nd Child -- In The Lobby Of Their Apartment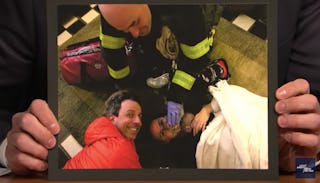 Image via YouTube/Seth Meyers
Seth Meyers and wife Alexi Ashe welcomed their second baby in dramatic fashion
Seth Meyers and his wife, attorney Alexi Ashe, welcomed their second son, Axel Starhl Meyers, on April 8, though things didn't go quite as planned. After contractions started, the couple began to rush to the hospital, but didn't get very far at all: the baby was born in the lobby of their apartment building, with the help of NYC firefighters as well as some concerned neighbors.
Meyers, who didn't take a break from his show following the Sunday afternoon birth, shared the story on Late Night With Seth Meyers Monday night, still looking surprised and emotional — though he was also in high spirits and beaming with fatherly pride.
Meyers started by saying that his first son, Ashe, was almost born in an Uber, which was a pretty exciting birth story–at least up until now.
Sunday started as a normal day as the host and his family went to brunch and walked in the park. When Alexi started having contractions 20 minutes apart, they called their doula and started getting things ready to go, but labor escalated quickly. Like, really quickly. Even though the couple rushed downstairs and had an Uber waiting steps away, Alexi said, "The baby is out," and the couple had to stop in their tracks to finish the birth — all on the lobby floor.
"She looked like someone who was hiding a baby in a pair of sweatpants," Meyers told the audience, giggling, before showing them a picture of the three of them, on the ground and surrounded by firefighters and police officers.
"I called 911 and over the course of a minute conversation, I basically said, 'We're about to have a baby. We're having a baby. We had a baby,'" Meyers shares. "I went from someone calling in about an emergency to sharing good news with a stranger. 'It's a boy! It's great.'"
Everyone went to the hospital, where mother and son were declared healthy, and Meyers shared a picture of Axel safely swaddled in a L&D blanket.
He also explained naming his son: even though they had already decided on Axel, because they liked it, they might tell him one day that he should be grateful for the moniker because firemen were present for the birth and the couple could've gone another way.
"You could have been Hose!" he joked.
Axel's middle name, Starhl, is Alexi's mother's maiden name. They chose the name because Alexi's grandparents were Holocaust survivors who met in an Austrian hospital the day after they were liberated, and they wanted to honor their memory.
Meyers was sure to thank everyone for their help, from neighbors who brought warm towels from the dryer for the baby, to the fireman who cut Axel's umbilical cord, to his mother-in-law and sister-in-law who helped with childcare for Ashe. He also thanked their doula and the doctors and nurses, as well as the Uber driver, "who fucking charged me," he added.
Finally, he thanked his wife for being "so amazing."
"Everything is going to be fine forever because of her," he continued.
As he spoke about his wife and new son, he fought back tears, but then jumped right back into his usual comic persona. "I'm getting choked up thinking about how brave I was," he joked.
This article was originally published on