Seth Rogen's Mom Dealt With A Hilariously Relatable Yoga Dilemma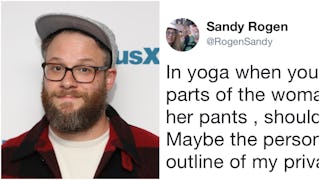 Image via Taylor Hill/Getty/Sandy Rogen/Twitter
Seth Rogen's mom, Sandy Rogen, wasn't sure if she should let people in her yoga class know that their vaginas are showing
Yoga pants are God's gift to women. They shape your butt really nicely, they flatten your stomach, and they make you feel like an all-around athletic goddess (even if you're just wearing them to pick up milk from the corner deli). Sadly, they can also have the tendency to, umm, cling rather stubbornly to your nether region. Seth Rogen's mom, Sandy Rogen, addressed this phenomenon head on when she publicly debated whether or not to tell someone in her yoga class that her vagina was showing.
Rogen took to Twitter to get feedback on her moral quandary. "In yoga when you can see the very private parts of the woman in front of you through her pants, should you tell her?" she asked. "Maybe the person behind me can see the outline of my private parts. Dilemma."
Well, ask and you shall receive. Hundreds of comments rolled in about YogaVaginaGate. Some people said that she should be honest. Some people said that she should be happy it wasn't male genitalia hanging in front of her (fair). And some people were just very happy that Rogen decided to share her dilemma with the Twitterverse.
https://twitter.com/jetpack/status/993727004808626176
https://twitter.com/jetpack/status/993637271399256064https://twitter.com/jetpack/status/993820258959052800
Meanwhile, Seth Rogen was having NONE of this.
But his mom didn't care. She really wanted to get to the bottom of the situation.
Side note: this is not the first time that things have gotten awkward between the Rogens on Twitter. Usually it's because Sandy is chatting about her sex life and Seth would rather she didn't.
Or, when Seth isn't being responsive enough. #RelatableContent.
Or, when Sandy was just trying to figure out how the whole social media thing worked.
I guess the moral of this story is that everyone should probably follow Sandy Rogen on Twitter immediately. Also, if you do yoga, at some point or another you will see the outline of someone's vagina and they will see the outline of yours. As long as it's not looming male genitalia, we're all good.