7-Year-Old Boy With Special Needs Handcuffed By Police At School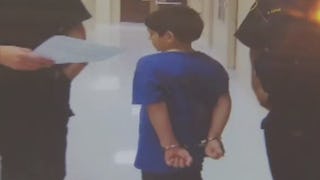 Image via CBS Dallas-Fort Worth
Family outraged after a seven-year-old boy with special needs is handcuffed at school
A Dallas school district is under fire for using extreme force to restrain a seven-year-old boy with special needs earlier this month. The incident happened at Gabe P. Allen Charter School in Dallas on May 9. After Yosio Lopez, a student at the school, allegedly began banging his head against the wall, the Dallas Independent School District Police Department restrained the boy with handcuffs.
The boy's mom told CBS Dallas-Fort Worth her son is a child with special needs, who has ADHD and a mood disorder. It isn't uncommon for her to be called to school because of outbursts, and a trained aide is usually with him. The family's lawyer, Amar Dhillon, said the aide wasn't with him at the time because the school was engaged in standardized testing.
Following the episode, the school called his mom to come in, but before she got there, police had allegedly not only handcuffed the boy, but taken him to a mental health facility without his mom's permission. In case you missed it, Yosio is only seven years old. Seven.
Even more appalling is that after Yosio was taken to a mental health facility, he was allegedly committed for nearly a week without his mother's permission and she wasn't allowed to see him for the first two days he was there.
The family's lawyer showed CBS Dallas-Fort Worth photos of bruising and Taser markings on Yosio, who told his mom he was put on a desk with his arms handcuffed behind his back while the school principal put her elbow on his neck.
"The boy did vividly describe being shocked and his body convulsing… and he was very clear about that," Dhillon said.
The photo of such a young child in handcuffs is chilling, and has caused an uproar on social media.
The school district said it can't discuss specifics, but issued a statement that read, in part:
"The Dallas Independent School District is committed to educating the whole child each day, and in doing so, we believe in providing a productive learning environment that is safe for all staff and students. While there has been media interest into an alleged incident at one of our Dallas ISD campuses, due to federal confidentiality laws protecting the privacy of all students and their families, we are unable to publicly confirm or deny the matter reported."
It's been a week since Yosio was released from Dallas Behavioral Hospital and he is recovering at home with his mom, but there are still a lot of questions about the incident. Why was a seven-year-old handcuffed and admitted to a mental health facility without his mother's permission? Why was she not allowed to see him? Why wasn't an aide with him at the time? And why was physical force required to restrain a seven-year-old boy?
"He was denied his safe place," the boy's mom said. "I feel cheated and my son feels cheated."