SJP Says 'Sex And The City' Reboot Will 'Obviously' Tackle COVID
by Erica Gerald Mason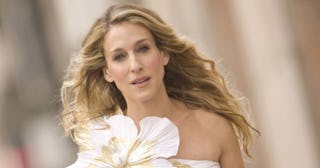 HBO
Are we ready for a Samantha-less, coronavirus-ridden Sex and the City?
In news that will make you nostalgic, video time capsule Sex and the City is coming back to television. HBO Max announced a limited series that will reunite Sarah Jessica Parker, Cynthia Nixon, and Kristin Davis's roles as Carrie, Miranda, and Charlotte. But not Kim Cattrall as the iconic Samantha. Though Cattrall won't return, Parker promises the revival will have all sorts of modern and updated trappings like the effect of coronavirus on New York…and podcasts.
Earlier this month, Parker officially confirmed the reboot — titled And Just Like That… — with a video on her Instagram feed.
Parker has been working to promote the show in light of the news that Kim Cattrall, who played Samantha, will not be returning for the reboot.
SJP told TMZ, "We're not looking to create a fourth character. We have New York City as the fourth character. There will be lots of interesting, new characters we are super excited about."
After the…interesting choices made in the second Sex and the City film, I couldn't help but wonder what other stories the franchise have left to tell. Especially after SJP's Carrie hurled all of her soulmate besties under the bus.
For those of you who need a refresher, Carrie told her husband, Mr. Big, that her buddies advised her to hide an indiscretion from him. In real life, that's a friendship-ending event: Your husband would never trust your friends again, your friends would never feel comfortable giving you honest feedback, and no one wants to be in the same room together anymore.
And in a world where racial and economic diversity matters more than ever in entertainment, does the world need another show about wealthy white women living in a town that has effectively priced out the middle class?
SJP is betting yes, but with some tweaks.
In a new January 29th, 2021 interview with Vanity Fair, Parker said she can't wait to see the scripts that famed showrunner Michael Patrick King is working on — this time with a writers room that's otherwise composed totally of "diverse" women.
"It's incredibly diverse in a really exciting way," Parker noted of the show's incoming writers, who will pepper the series with fresh "life experience, political world views, and social world views."
Parker commented that COVID-19 will "obviously be part of the storyline, because that's the city [these characters] live in." And as a show primarily about relationship, she says the show will explore how COVID "has changed relationships once friends disappear? I have great faith that the writers are going to examine it all."
SJP doesn't know exactly what's in store for her character on the small screen, but she did say that she can't wait to see what the characters are doing in their '50s.
"I think that Cynthia, Kristin, and I are all excited about the time that has passed," said Parker. "You know, who are they in this world now? Have they adapted? What part have they played? Where have they fallen short as women, as friends, and how are they finding their way? Did they move with momentum? Are they like some people who are confused, threatened, nervous [by what's happening in the world]? I'm so curious and excited to see how the writers imagine these women today."
Parker's new ideas about the reboot peppered the Vanity Fair interview.
"What is their relationship to social media? What has changed?" Miranda and Charlotte, she noted, are both mothers of teenagers now: "What is their life like? For Carrie, who doesn't have family beyond her friendships, where is she professionally? How have all of these political changes affected her work? Is she still writing a column? Has she written any more books? Or does she have a podcast? What does fashion mean to her now? How have the friendships changed or not changed, and has her social circle grown?"
Stay tuned to find out.