HBO Max Announces Revival Of 'Sex And The City'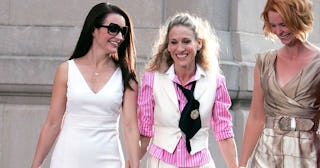 James Devaney/WireImage/Getty
I couldn't help but wonder, will a Sex and the City revival really work in 2021? Either way, everyone is tuning in
Big news today for any woman who's old enough to have ordered a cosmo at a bar — Sex and the City is officially getting a revival on HBO Max. If that news makes you raise one eyebrow, you're not alone — while the series was basically a women's bible for love and friendship in the 90s, it's been criticized when viewed through a modern-day lens. Despite that, though, you know every Carrie, Miranda, Charlotte, and Samantha will tune in for this.
The revival will follow most of the main characters from the original series "as they navigate love and friendship in their 50s." Golden Girls they are not, but we can only imagine what kinds of antics the Sex and the City crew would get up to as solidly middle-aged women. Also, is it just me, or does that description seem to imply that the men they ended the second movie with are no longer in the picture? If that's the case, RIP to Steve, and good riddance to Big. Yeah, I said what I said.
According to Variety, the new show is called "And Just Like That…," and will star Sarah Jessica Parker as Carrie Bradshaw, Cynthia Nixon as Miranda Hobbes, and Kristin Davis as Charlotte York. Notably missing from the cast list is Kim Cattrall, who played Samantha Jones in the original series. That's not surprising if you've paid any attention to the public feud between Cattrall and Parker over the last few years, and after rumors said a third Sex and the City movie was killed because Cattrall refused to return. We don't know how the show will handle Samantha's absence — is she dead? Still living in L.A.? We have a lot of questions.
The three stars of the revival announced the big news on Instagram by posting a teaser video, which shows short clips of New York City, cut with scenes of a computer screen where the words "And just like that" are being typed. Carrie does her iconic voiceover, of course. "I couldn't help but wonder, where are they now?" Parker wrote in her post.
Love it or hate it, everyone was talking about the big revival news on social media, particularly in relation to Samantha's absence.
The Sex and the City revival is one of a long lists of remakes that HBO has in the works for its new streaming service. Gossip Girl and True Blood are both also being brought back to life, and we're not sure what happened with that Friends reunion that was delayed (canceled?) due to COVID, but here's hoping it's coming back. In other words, if you don't have an HBO Max subscription, this might be the time to get one.
This article was originally published on