HBO Exec Reveals How 'SATC' Reboot Will Explain Samantha's Absence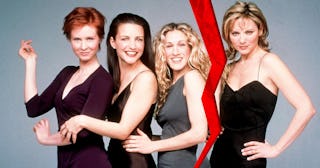 Scary Mommy and Paramount Pictures/Getty
An HBO exec is hinting at how the show will explain the absence of Samantha, and it's actually kinda shady
Last month, HBO Max announced that they're officially working on a revival of Sex and the City, the beloved show that ran from the late '90s through the early aughts. Many fans were delighted, even though the series ran for six seasons and had one successful post-series feature film (we do not know nor acknowledge the sequel, though Stanford and Anthony's wedding deserved its own movie). But it was quickly revealed that Kim Cattrall would not be part of the new show alongside Sarah Jessica Parker, Kristin Davis, and Cynthia Nixon.
And now an exec from HBO is revealing how they'll handle the absence of Samantha, the iconic character who was by far the most sex-positive gal on the show (and positively ridiculous in the best ways). It's no secret that Cattrall and her castmates haven't exactly been close friends like their characters in the show. In fact, a feud between Parker and Cattrall has played out rather publicly during the last few years.
It seems that art will imitate life when it comes to the revival, too. Because friendships wax and wan in real life, they will do the same on the show.
"They're not trying to say that these characters are reliving their 30s," HBO Max chief content officer Casey Bloys told TVLine. "It is very much a story about women in their 50s, and they are dealing with things that people deal with in their 50s."
Fans have been wildly speculating the ways the show will handle Samantha's absence, from predicting she'll have succumbed to the breast cancer she battled in the final season (so bleak, but that's where we are mentally in 2021), Samantha quarantining in a foreign country due to COVID, or even the unthinkable — that Samantha's role would be recast.
But nope, Carrie, Charlotte, and Miranda just aren't going to be friends with her anymore.
"Just as in real life, people come into your life, people leave," Bloys explained. "Friendships fade, and new friendships start. So I think it is all very indicative of the real stages, the actual stages of life… They're trying to tell an honest story about being a woman in her 50s in New York. So it should all feel somewhat organic, and the friends that you have when you're 30, you may not have when you're 50."
It's not unrealistic, of course. And it's also kind of in line with remarks Cattrall herself has made in the past. Back in 2017, she gave an interview to Piers Morgan where she stated that she and the other cast members have never been friends, and without the show, they have nothing in common.
"They all have children and I am ten years older, and since specifically the series ending I have been spending most of my time outside of New York so I don't see them," she said. "The common ground that we had was the series, and the series is over."
All of this is true and clearly there's no love lost between Cattrall and Parker, Davis, and Nixon. But damn, we're sure going to miss Samantha, aren't we?