Start Pouring Your Cosmos: A 'Sex And The City' Follow-Up Is Coming To TV
by Thea Glassman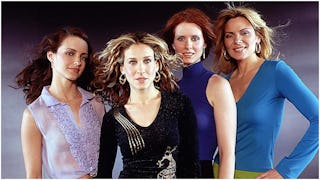 Image via HBO
Sex and the City is coming back to the small screen and hallelujah for that
Pour a cosmo, put on your best high heels, and grab a dress that most resembles a tutu. There's a Sex and the City follow-up heading to the small screen and I'm officially feeling all up in my Aidan feelings (because Team Aidan, always). Life just got so, so good.
Here's everything you need to know. Candace Bushnell, who wrote the book Sex and the City back in 1997, has penned a new book called Is There Still Sex in the City? It looks at sex, dating, and friendship after 50 and will be released in August, according to The Hollywood Reporter. Paramount Television has already snatched up the rights to the book, which means that we're very likely going to get another SATC-style series coming our way.
Unfortunately, it doesn't sound like this project will involve Carrie, Charlotte, Miranda, and Samantha BUT that doesn't mean it won't be a really good time.
Bushnell said in a statement that she's going to explore the very different ways that women are choosing to live their fifty-something lives.
"At one time, fifty-something meant the beginning of retirement…retirement-age folks weren't meant to do much of anything but get older and a bit heavier," she said. "They weren't expected to exercise, start new business ventures, move to a different state, have casual sex with strangers, and start all over again. But this is exactly what the lives of a lot of fifty- and sixty-something women look like today, and I'm thrilled to be reflecting the rich, complexity of their reality on the page and now on the screen."
Yes, yes, yes. Carrie & co. would be so, so proud.
Nicole Clemens, president of Paramount TV, added that she's excited to bring more SATC joy to television and finally give a voice to fifty-something women, who very, very rarely get representation on the screen.
"The original Sex and the City book and series served as a groundbreaking touchstone for an entire generation of women, myself included," she said in a statement. "We're thrilled to be able to continue that conversation from the underrepresented point of view of women in their 50s and answer the question with, 'Yes! There is more sex in the city!'"
This news is especially thrilling because it doesn't look like we're ever getting a Sex and the City 3 (full details on that whole drama here). So, let's raise our Manolos to a whole new group of Bushnell-inspired women. And if Aidan just happens to want to make a cameo, so be it.
This article was originally published on