Twitter Users Send Journalist Stories Of Sexual Assault — And He's Sharing Them All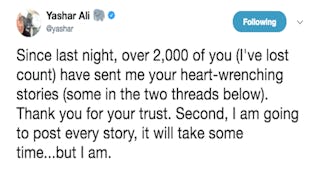 Image via Twitter/Yashar
Thousands of sexual assault victims trusted Yashar Ali with their stories
We are in the midst of an enormous tidal wave of public revelations surrounded sexual assault, abuse, misconduct, and outing the perpetrators who commit such acts. Since the Harvey Weinstein allegations emerged last month, this movement has grown exponentially — throughout Hollywood and beyond. It's important to remember that men and women everywhere are victimized this way everyday. Which is why journalist Yashar Ali is doing his part to give all victims a voice.
Yashar has been a prominent journalistic voice on social media for awhile now, breaking stories about anything from James Comey to Weinstein. After sharing a DM from one sexual assault victim who trusted Yashar with her story, thousands more followed suit.
[Trigger warning: the following stories contain detailed stories of sexual assault, abuse, and coercion.]
As someone who's been following Yashar on Twitter for awhile, I can say he does have a calm, compassionate presence. He's always thorough in his reporting and shares valuable information from reliable sources no matter their political affiliation. I can absolutely see why so many victims find him trustworthy in sharing their stories, albeit anonymously.
https://twitter.com/jetpack/status/929213995135000577
https://twitter.com/jetpack/status/929215352105553921
The DMs kept pouring in and Yashar kept posting them, per the victims' wishes. Get your box of tissues ready, because these stories are deeply moving and heart-wrenching.
https://twitter.com/jetpack/status/929217570489716736
https://twitter.com/jetpack/status/929218412676616192
https://twitter.com/jetpack/status/929223314438000640
I want to send each of these people a million Edible Arrangements and all the hugs in the world for their courage.
So far, he has received over 2,000 DMs from victims.
https://twitter.com/jetpack/status/929237717828997121
https://twitter.com/jetpack/status/929489564577730561
https://twitter.com/jetpack/status/929239749457522688
Stories like these prove many people aren't guaranteed safety from predators anywhere. Not at home, not with family, not at work, and not even when getting a massage. It's sickening.
https://twitter.com/jetpack/status/929556681788452864
https://twitter.com/jetpack/status/929558579648057344
https://twitter.com/jetpack/status/929247140370616320
For his part, Yashar says he will post every single story he receives, no matter how long it takes.
The importance of this thread is that it shows victims of sexual abuse, assault, misconduct, and coercion that their stories and experiences are valid. That they are not alone. And hopefully by continuing to come forward — on their terms — the manner in which society treats victims will get a much-needed overhaul. It begins by believing victims and improving the reporting process for sexual assault. It begins when our kids are little, and we as parents teach them about the vital importance of consent and everything consent means.
Predators use their power to victimize, but they also use it to protect themselves. Sharing stories like these publicly — even under the condition of anonymity — shifts power to the victims. And they need to know we're listening.