Man Faces Life In Prison For Sexually Abusing An Airline Passenger While She Slept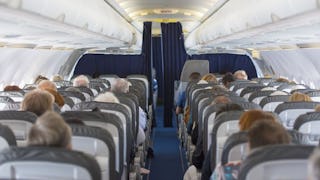 Image via AlxeyPnferov / Getty Images
Man guilty of sexually abusing an airline passenger
A man who was found guilty of sexually abusing an airline passenger while she slept now faces a life sentence. With people like Brock Turner receiving barely any punishment for their sexual assaults, we hope this attacker gets a strict sentence, which is only possible because this assault happened on an airplane and is therefore a federal crime.
Prabhu Ramamoorthy, 35, undressed and fondled a sleeping 22-year-old woman during an overnight flight on Spirit Airlines from Las Vegas to Detroit in January. It took a federal jury less than four hours to find him guilty of sexual abuse on board an aircraft last week, CNN reported. Crimes committed on airplanes are prosecuted by the federal government as opposed to local enforcement agencies, who are the folks that typically investigate sexual assault cases.
"Everyone has the right to be secure and safe when they travel on airplanes," US Attorney Matthew Schneider explained. "We will not tolerate the behavior of anyone who takes advantage of victims who are in a vulnerable position, and we are glad the jury agreed. We appreciate the victim in this case for her courage to speak out."
The survivor was leaning against the window and sleeping when she woke up to find Ramamoorthy fondling her with his hand down her pants. Talk about a terrifying experience. The 22-year-old also told investigators that Ramamoorthy had unbuttoned her shirt. Ramamoorthy stopped attacking the woman when she woke up and she reported him to the flight attendant.
Thankfully, law enforcement officials took him into custody as soon as the flight landed. At first, Ramamoorthy blamed his horrendous actions on a deep sleep, but eventually told the FBI he had unzipped her pants and "put his finger into her pants and tried to fondle her," CNN reported. He'll be sentenced on December 12 and faces life in prison for his actions.
Earlier this summer, the FBI warned travelers that crimes just like this one are on the rise. Sexual assaults on overnight flights are "increasing every year . . . at an alarming rate," explained David Rodski, an FBI special agent who investigates crimes at the Baltimore-Washington International Marshall Airport. Even with the increased number of reports, the FBI said some victims are too shocked to know what to do. "What we're finding is a lot of people do not report the act," Rodski shared. Or they report it long after the assault happened. "Hit that call button," the FBI agent said. "Notify the flight crew immediately."