Shannen Doherty Slams 90210 Drama Rumors, Refuses To Be The 'Villain'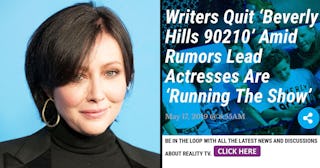 Earl Gibson III/Getty and Shannen Doherty via Instagram
Rumors about Shannen Doherty being difficult to work with? Not today, Satan
Shannen Doherty is not here to be portrayed as a real-life villain anymore, okay? She's older, wiser, been through a hell of a lot, and has no time for Beverly Hills 90210 drama yet again. The actress responded to rumors on Instagram, and she did it brilliantly.
It was being reported that the showrunner for the much-anticipated 90210 reboot, Patrick Sean Smith, had quit the show, as well as several writers, apparently due to "two of the show's lead actresses." Because it's literally impossible to not blame women in the entertainment industry for being "difficult to work with."
Well, Shannen isn't going to stand for it. "Being a part of tv history is an honor but it also comes with some massive backlash," she writes on Instagram. "There has been many stories floating around about this show and me. One of the reasons I hesitated to say yes was for this crap."
Back in the early 90210 heydey (and even when she was on Charmed), Doherty faced a lot of these headlines and rumors. All these years later, it seems kind of tired and predictable to stir up this played-out narrative, doesn't it?
"The only thing I'm a control freak over is my health," she continues. "Trying to stay healthy and positive. I realized this morning, that I have a fear of doing what I love because of headlines like this. Not only because there is zero truth to it but because it lessens me and my journey, battle, experience with cancer."
Doherty, who found out she was in remission from breast cancer back in 2017, has chronicled her cancer journey from the time that she was diagnosed, to the chemotherapy and radiation treatments, to her slow and difficult recovery. She, like the rest of her castmates, recently lost a dear friend in Luke Perry when he died after suffering a stroke earlier this year.
So yeah, Shannen Doherty isn't here for the b.s. rumors about her.
"I refuse to be cast in the same villain role because 'journalists' lack imagination and I certainly refuse to be cheapened as a survivor and as a woman by them," she says. It's especially disheartening to read negative stories like the one she mentions when the show just got off the ground, doesn't premiere for another three months, and is so highly anticipated by fans.
The Fox series is called BH90210, will run for six episodes, and features much of the original cast. "What will happen when first loves, old romances, friends and frenemies come back together, as this iconic cast — whom the whole world watched grow up together — attempts to continue from where they left off?" Fox said in a statement about the show.
Not to mention, Doherty very recently announced she'd be part of it:
As Natalie Portman once said, "Stop the rhetoric that a woman is crazy or difficult. If a man says to you that a woman is crazy or difficult, ask him: what bad thing did you do to her?"
"Yes, I am a strong woman," Doherty concludes. "I have been thru hell and back. I am compassionate and caring. I'm multi-faceted and not someone to be pigeon holed. I am a woman with my own story. Please stop trying to tell your wildly inaccurate, exaggerated story of me. I promise… you don't know me."