Shannen Doherty Rocks New Haircut To Celebrate Breast Cancer Remission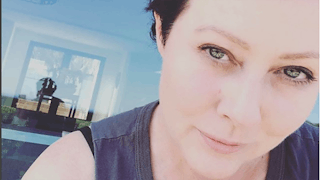 Image via Instagram
Shannen Doherty reveals her first haircut after going into breast cancer remission
Shannen Doherty is celebrating a huge milestone for women who beat cancer: she's choosing a hair cut and style after months of chemotherapy and radiation treatments.
The actress, famous for her role in Beverly Hills, 90210, posted a new photo to Instagram to show off the look she's rocking after her first haircut post-remission, and to provide more of her honest, open insight into all the things cancer has forced her to go through, like having short hair (or no hair) for two years.
"Yes he gives the best haircuts ever but the real pleasure is just absorbing some of his positive, serene energy," she wrote alongside the snap. "Thank you @anhcotran for the "sexy Parisian" cut. After two years of either bald or a crew cut, it's nice to feel a bit more like a woman again."
That caption is par for the course from Doherty. Since she was diagnosed with breast cancer in 2015, she's been sharing her journey and all of its ups and downs with courageous honesty. From when she chronicled the steps she took before shaving her head last year, to when she shared a heartbreaking and vulnerable — yet still hopeful — photo of the havoc chemotherapy was wreaking on her body, she hasn't shied away from sharing all the good, bad and ugly moments in her fight against the disease that attacks one in eight U.S. women.
In April, Doherty joyfully revealed that she was in remission, writing about how overwhelming it was to receive that news after two years of fighting.
Today, Doherty looks happy, healthy and just as beautiful as ever. She's an inspiration to all women, but especially to all the women who will fight breast cancer during their lives. Her haircut is gorgeous, but so is the rest of her.
This article was originally published on