Shannen Doherty Posts Workout Video A Day After Chemo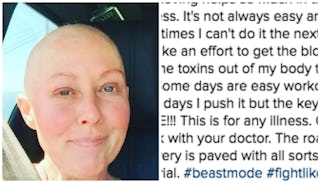 Image via Instagram
Shannen Doherty shares video of dance routine only a day after receiving chemo treatment
Shannen Doherty has shared many heartbreaking images throughout her battle with breast cancer but the most recent update is a happy one. The actress posted a video of herself doing a dance routine only a day after receiving chemo showing us exactly how bad ass she truly is.
Doherty's cancer news was revealed last year when she had to file a lawsuit against her former managers for letting her health insurance run out. She claims the failure to renew her insurance led to a delay in diagnosis and treatment of her cancer.
In an interview this past August with Entertainment Tonight, Doherty shared that her cancer had unfortunately spread. "I had breast cancer that spread to the lymph nodes, and from one of my surgeries we discovered that some of the cancer cells might have actually gone out of the lymph nodes. So for that reason, we are doing chemo, and then after chemo, I'll do radiation."
It was after one of those chemotherapy treatments that Doherty posted a video to Instagram showing herself working out post-chemo. Because again, this woman is a total bad ass.
First, she explained to fans how she feels after chemo treatment saying that movement and exercise actually helps her recover faster.
Then, Doherty lets us see a clip of her workout, that she powered through despite feeling sick.
Doherty writes, "Let me tell ya…. shaking your booty is hard work with my Neda who's been helping me move and get toxins out. Yes I was tired, yes I wanted to be in bed but I went and moved and felt way better. Any exercise during illness is good. We can do it!!!"
Hell yes she can. The actress has been very open about her fight with the disease even letting fans in on the process of shaving her head earlier this year. She also posted an image of this week's chemo session saying, "Chemo day. I'm lucky to have such a great team!!!"
I have a close family member who was diagnosed with breast cancer a few years ago at only 29 years old. Doherty's strength is amazing, but because of the women I know, it doesn't surprise me at all. I watched my family member refuse to let cancer treatment stop her from not only living her life, but enjoying it. She powered through her treatments and surgeries with admirable grace and resolve. Just like Doherty.
And I'm not the only one inspired by the actress' updates — her Instagram is full of supportive comments from fellow cancer patients telling her how much hope she's giving them. It might not be easy sharing the ins and outs of her battle, but in being so open, Doherty is certainly helping others by showing them they don't have to take this horrible disease and all of its indignities lying down.
This article was originally published on