Shannen Doherty Shares Powerful Photo For Breast Cancer Awareness Month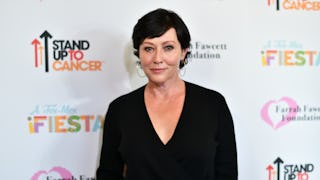 Image via Earl Gibson III/Getty Images
Shannen Doherty is still sharing raw and powerful updates about her cancer battle, even after remission
Breast Cancer Awareness Month is a personal, emotional time for Shannen Doherty.
The former star of Charmed and Beverly Hills, 90210 battled the disease for over two years, documenting her courageous fight every step of the way, before announcing last spring that she was finally in remission.
Now, with Breast Cancer Awareness Month underway, Doherty just shared a truly heartbreaking throwback photo that shows her in tears as she holds fistfuls of her long, dark hair. Alongside the photo, she shared a message that is equal parts devastating and uplifting, describing once again what cancer took from her, and what the experience has given her since.
"This image is so personal to me," she wrote. "I had started chemo. Was using a cold cap in hope to not lose my hair. End result was clumps in my hands. I was sick, felt like I was losing myself. Gained people and lost people. Got weak and got strong. Felt ugly and yet more beautiful inside than I had ever felt before. I remember this like it was yesterday, like it was a minute ago."
She then describes all the phases of a cancer battle, which will be all too familiar to those who have experienced them, either themselves or by the side of a loved one battling the disease.
"Cancer has so many phases," she wrote. "Shock, denial, acceptance, anger, resentment, rebellion, fear, appreciation, beauty. Remission. Even then, the phases keep coming."
And then, this reminder of what she has gained from fighting for her life: "Cancer is with you forever. Those who have experienced it know that even after you've kicked it's ass, it still impacts you, in good ways and bad. You still go thru the roller coaster of emotions. You still need support and love. And you can still grasp life and live, live live."
The glimpses Doherty has shared into her battle have always been raw and poignant. Seeing her open up now in a more retrospective way, talking about how beating cancer has changed her forever, helps us understand even more what a truly life-altering experience cancer is. We're happy that she's now cancer-free, but still sharing her journey with us.
This article was originally published on