Round Up Tons Of Fun With These 11 Shapes Coloring Pages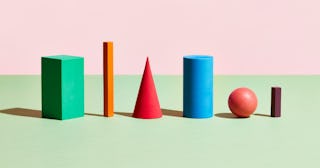 Richard Drury/Getty Images
Remember back in the day when you were learning shapes? Those skills have come in quite handy today. Sure, you might not be able to identify a hexagon or a trapezoid immediately at first glance, but that's why it's still good to practice on occasion. And these shapes coloring pages are a great way to do just that. Shapes coloring pages are also an excellent color activity for toddlers and preschoolers preparing for kindergarten (not to mention kindergarteners themselves!).
If you're currently a homeschooling mom or trying to teach your child remotely, it may be a fun exercise to print out all of the shapes coloring pages and list a few basic instructions, such as "I want you to find a circle and color it blue," or "make every rectangle green." That way, your child will get to piece together their knowledge of both shapes and colors. If you want to keep the educational activities rolling once your little one finishes these pages, check out our alphabet coloring pages, number coloring pages, and mandala coloring pages.
Free Printable Shapes Coloring Pages
Shapes Page No. 1
This shapes page has all of the basics — and then some. The ones in the bottom row will be especially entertaining to color. That said, it does seem like this page has three different types of "quote boxes," so don't be afraid to include your own colorful commentary. Maybe you can put some words of encouragement in there if printing out for a young child. And here's a fun fact about clovers: For every four-leaf clover, there are 10,000 three leaf clovers!
Shapes Page No. 2
This coloring page may make you flashback to geometry class in high school. But if math isn't your thing, these can be great for budding artists. Try to challenge your child to shade these in a way that'll make each one pop out. It's exciting to give more dimension to shapes and a fantastic way for children to practice depth and shadowing. Pyramids were also three-dimensional shapes with physical and historical depth. Did you know each pyramid stone weighed about two to 70 tons each?
Shapes Page No. 3
Nonagon and decagon aren't words that most of us would use in everyday speech, which is why you should take the chance to say them out loud while coloring this shapes coloring page. These shapes are all labeled, which will help kids identify each one a little better. You can make this page more dynamic by asking your kid to color all star-shapes one color and all rectangular shapes another.
Shapes Page No. 4
Can we be honest here? This coloring page looks fantastic as-is, without any color. There's something quite dramatic and fulfilling about how it looks in its original state. But there's always room for improvement when it comes to coloring pages! Try to use light colors to give these shapes a bit more edge. Or have your little one use the white space around the shapes to try replicating the shading seen here.
Shapes Page No. 5
If you're looking for shapes with a little more personality, then this is the page for you. These friendly shapes are sure to put a smile on the face of anyone who colors them. If you happen to have colored pencils or markers with a little bit of sparkle and glitter, this would be the perfect page to break them out.
Shapes Page No. 6
Simple yet powerful: These shapes have bold, rounded details to make them seem more inviting to color. These would be a natural pick for colored pencils. Just try to stay in the lines to make these eye-catching shapes even more vivid.
Shapes Page No. 7
Taking the same faces from the fifth page, these could also double as pancakes you'd buy at IHOP if you're looking to transform a coloring page into something else. (Apologies if you suddenly have a craving for pancakes.)
Shapes Page No. 8
These are the perfect non-pancake shapes if you're looking to move away from popular breakfast foods. That said, these can also turn into something else. You should let your creativity take over when it comes to coloring them! For example, the first shape on the left is reminiscent of a baby carriage, and in the center, it's hard not to see a beautiful moon. Fun fact: Despite how big the sun and moon seem in the sky, the moon is actually 400 times smaller than the sun and closer to the earth.
Shapes Page No. 9
These can also be morphed into other objects, showing children that shapes surround us everywhere. Maybe the happy rectangle can turn into a truck. Or the oval can turn into a balloon.
Shapes Page No. 10
Lastly, we have non-traditional yet still very smiley shapes. You can work the arrow into a lesson about left and right if you and your child are working on directions. And the shape in the middle looks a lot like a four-leaf clover. Did you know clovers represent faith, hope, and luck?
Shapes Page No. 11
This picture looks a lot like a bunch of gears. And although it's a little whacky, some gears actually look like this. There are cone and sphere-shaped ones too! Fun fact: The smallest gear is actually molecular. It is 1.2 nanometers and was designed by scientists from A*STAR's Institute of Materials Research and Engineering.
Click here to print all of the shapes coloring pages at once!
This article was originally published on