Olympic Gymnast Shawn Johnson Talks Pregnancy and Parenthood
by Katie Cloyd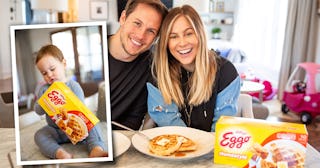 Courtesy of Shawn Johnson-East
You might know Shawn Johnson as an Olympic gold medalist, Dancing with the Stars champion, a New York Times best-selling author, or a pop culture staple. In less than three decades on the planet, she has made her mark.
You might even be one of her millions of social media followers or YouTube subscribers. Along with her husband, football player Andrew East, Shawn Johnson-East runs a successful YouTube channel called The East Family. They share a glimpse into their life, uploading frequent videos about their adventures in marriage and parenting. Their family includes daughter Drew Hazel who was born in late 2019, and a sweet dog named Nash. This summer, they'll add a second child. Shawn announced her second pregnancy in January.
I first started following Shawn Johnson-East's YouTube channel when she bravely shared her story of pregnancy loss late in 2017. I experienced a loss around the same time, and her vulnerability was endearing. It made me feel less alone. When she announced another pregnancy in 2019, I felt like I was watching a friend get the very best good news. As fate would have it, my trying to conceive story continued to follow hers. My own rainbow baby arrived just a couple months after Shawn welcomed her daughter, Drew.
To my delight, Shawn agreed to chat with Scary Mommy to talk about motherhood, pregnancy, her due date, and where she will be watching this year's Summer Olympics.
How do you handle the chaos of motherhood, especially now that Drew is a busy toddler? Are you a "roll with the punches" kind of mom or does the unbelievable amount of baby energy stress you out sometimes?
"Both?" Shawn jokes. "I think that's all moms, right? I'm a perfectionist by nature, probably dating back to my gymnastics days."
That's easy to believe. Shawn won a gold medal on the beam at the 2008 Summer Olympics in Beijing, and a silver medal as part of the women's gymnastics team.
"As a mom, I have to balance [my perfectionism] with a lot of grace and remind myself that [Drew] is a ONE-YEAR-OLD. The world is big, and she is still learning."
"She doesn't know what language I'm speaking," she laughs.
"I think Andrew and I are a 'roll-with-the-punches kind of parenting team'" Shawn says. "We have to be. [Our daughter] is her own person, and she's going to do her own thing."
Congratulations on your second pregnancy! How have you been feeling, physically and emotionally?
"I'm feeling much better now," Shawn reveals. "I'm in my second trimester, so there's less worry and I finally have more energy. The first trimester was tougher this time than it was with Drew."
Shawn struggled with nausea and extreme fatigue this time that she didn't experience the first time around. "I didn't expect to just want to take a nap all the time!" Shawn exclaims.
How has the pandemic changed the way you are handling this pregnancy? Have you discovered any unexpected upsides when it comes to pregnancy and parenting in the midst of this strange time in history?
"Of course, like everyone I've had some challenging emotions because of the pandemic. With pregnancy, it's nerve-wracking," Shawn admits. "You always feel like your health is in question and you want to be safe and keep your baby safe."
Like many parents, Shawn Johnson-East sees the slower pace that the pandemic has brought with it as an unexpected silver lining in a tough, terrifying time.
"As far as with Drew, I've just been trying to balance work with raising a child, but it's been great to get to spend so much time with her," Shawn shares.
You're working in partnership with Eggo waffles.
"When I told my mom I was working with Eggo, she laughed. 'It's about time!' When I was a kid, that's all I would eat for breakfast. Plain homestyle waffles with butter and drowning in syrup," Shawn remembers.
"Now for Drew, I serve them with peanut butter and maybe some banana. It's nutritionally sound, and you don't have to mess with sticky syrup," Shawn adds.
You encourage parents to "celebrate small wins and embrace messy mornings." What does that look like to you?
"I love to encourage parents to love the chaos, because everyone experiences that."
Even though Shawn and her family share their lives online, and some people might envy their family, she admits that even she is susceptible to comparison.
"There's nothing more frustrating than going on social media, and there's this family who has prepared a five-course breakfast, and everyone is dressed beautifully, and nothing is out of place. That's not real life!" Shawn sighs.
"I'm not going to lie. I've cried," she shares. "I wake up early, prepare this beautiful, like breakfast casserole or something, and Drew doesn't eat it. She throws it on the floor, or feeds it to the dog!"
Shawn explains that a small win for her is just getting her kid to eat a good hot meal, even if it's not a curated masterpiece worthy of an Instagram post. She knows real life isn't always picture perfect.
Of course, we couldn't let Shawn Johnson-East get away without asking how she's feeling about the Summer Olympics, which will be taking place this summer in Tokyo.
"I cannot wait! My baby is due the same week as opening ceremonies, so I will be watching from the hospital," she laughs. "I am so excited to support the athletes however I can."
Proving that celebrities really are just like the rest of us, Shawn shares, "I've got my eye on Simone Biles, of course! The greatest."
Just days after this interview, Shawn Johnson-East announced to fans on her Instagram that she was diagnosed with COVID-19. My thoughts are with her. All of us at Scary Mommy send our best to the East Family, and we wish Shawn a quick recovery.