Shelly-Ann Fraser-Pryce Is The First Mom Ever To Win A 100m World Title
by Leah Groth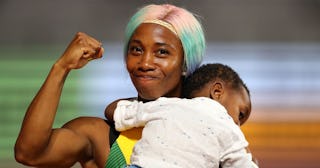 Richard Heathcote/Getty
Shelly-Ann Fraser-Pryce is not only the first mom to win the 100m title, she's the oldest woman to do it too
Who says having kids has to slow you down? Jamaican runner Shelly-Ann Fraser-Pryce made history on Sunday, winning the 100-meter final at the World Championships in Doha. Sure, she has won the same race three times in the past, but this time it was extra special as it marks the first time a mother has ever sprinted to victory in the event. At 32, she is also the oldest woman to win it, making her doubly kick ass.
https://www.instagram.com/p/B3CXDg0iOmN/
"A victory for motherhood!" she said, according to the AP — which is basically the understatement of the year!
"My secret is just staying humble and just know who you are as a person and athlete and just continue to work hard," she said after her win, CNN reported. "It's a wonderful feeling having my son witnessing this." Not only did her 2-year-old son, Zyon, witness her historic win, but he also got to join his mama on the field seconds after her win.
https://www.instagram.com/p/BzGEevRFW2Z/
"Standing here having done it again at 32, and holding my baby, is a dream come true," Fraser-Pryce said, according to IAAF. "I had no sleep last night. Last time I was at a major championship was 2016 and I just could not sleep with nerves. But with mental toughness you will get what you want. I can't believe it. I worked so hard to be back. The field was so strong I had to come good here and I'm so excited to come out with victory."
Like so many of us, her journey into motherhood wasn't without obstacles. Especially because, as an athlete, pregnancy can negatively impact your career. She revealed to the AP that she "sat on her bed and cried" when she learned she was pregnant with her son. Many people thought it was time for her to retire, but she wasn't ready. Like other kick-ass female athletes before her, she decided to stay in her lane and continue training.
"Everyone's entitled to their opinion," she said. "I knew how I felt and I knew I wasn't ready to go. I had something left to do, and I stayed focused on the goal."
Her pregnancy wasn't easy, and she had to stop training as a result. "For 10 weeks, I couldn't lift weights (while lying) on my back," Fraser-Pryce continued. "And mentally, it's even harder because you're 30, you're having a baby, the females are out there running fast. You wonder if you can come back. For me, I just worked really hard." To further complicate things, Felix's son was also born two months prematurely, spending around a month in the neonatal intensive-care unit.
https://www.instagram.com/p/BzvfD6clM0S/
However, having her son ended up being the driving force behind her latest win. "Zyon and my husband have been my strength. When everybody else doubted me, they never did. It's down to them that I am here again."
Next time that thought runs through your head that motherhood is preventing you from following your dreams, think of Shelly-Ann Freaser-Prye's story and just do it.