Don't Be A Heel! Print These Shoe Coloring Pages And Get To Work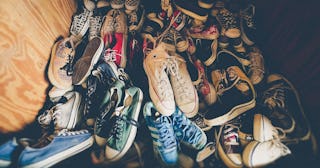 Jakob Owens/Unsplash
If you're not shoe-obsessed, it's easy to take them for granted. You might wear them every day. You might even enjoy finding a super-cute pair of shoes from time to time. But once they're in your possession, you probably don't think much more about your shoes — unless, of course, they hurt your feet. Shoes deserve more love, though! They're just as much an accessory as gorgeous jewelry. They typically get us from point A to point B injury-free, helping you climb mountains and trek through forests. And, as you'll soon discover, their variety of styles and designs make for some seriously fantastic shoe coloring pages.
Because let's be honest, there are some pretty awesomely designed shoes out there. From the new LeBrons to those infamous red-soled Louboutins, modern shoes are almost works of art. Even the quirky Vans or Chucks you buy at Journeys (remember them?!) can speak volumes about your personality. So, obviously, shoes are essential. If you're shoe-obsessed, well, you already know that. That's probably why you're here.
Hey, we aim to please! The following shoe coloring pages are fun for all ages — even kiddos who may not love shoes will love these pages. We've added some fun shoe facts and fascinating shoe history, too. Why not make it a learning opportunity, right? Don't be fooled, though. Even if you skip over the facts, the shoe coloring pages are a learning opportunity in and of themselves. Coloring activities teach kids valuable skills like focus and self-control. Coloring is even a great way to get your kiddo ready for kindergarten. What's not to love, then, about coloring during arts and crafts time?
With that in mind, these free printables are a shoe-in (heh) the next time you need a cool activity. And once you finish these, run, don't walk, over to our umbrella coloring pages, fashion coloring pages, and makeup coloring pages.
Free Printable Shoe Coloring Pages
Shoe Page No. 1
According to historians, it was actually men in the 10th century who made wearing high heels popular. The heels helped their feet stay in their stirrups on the saddle when riding a horse. Can you guess how tall the largest heel was? It was six foot five and designed by Kenneth Cole.
Shoe Page No. 2
Got any barleycorns hanging around? In the 1300s, King Edward proclaimed that barleycorns would be used as the official shoe-sizing guide. In case you're wondering, it takes about three barleycorns to equal one inch.
Shoe Page No. 3
Feel bad about your big feet? Don't! No matter the size, your feet serve as a solid foundation and carry you through your life.
Shoe Page No. 4
Shoes on the wrong feet? Blame it on Philly. Before the 19th century, both shoes in a pair were identical and, thus, interchangeable between your left and right feet. The side-distinguished shoes were invented in Philly. And all Philly jokes aside, this development has proven to be a serious upgrade for tootsies everywhere.
Shoe Page No. 5
What are your thoughts on loafers? If you're an Audrey Hepburn fan, you probably love them. She danced in loafers during her 1957 film Funny Face and made the shoe wildly popular.
Shoe Page No. 6
Ever wonder where the term "sneakers" originated? It's been around since the late 1800s. That's when the first pair of rubber-soled shoes became available. They were significantly quieter than their predecessors and made it easier for wearers to move around quietly… or "sneak." And, while we're on the subject of the soles of shoes, did you know an Andy Warhol drawing was actually the inspiration for the trademark red sole of Louboutins? Talk about creativity!
Shoe Page No.7
There's a spot on your brain in the prefrontal cortex called "the collector's spot" that gets triggered any time you see something you like. That includes shoes!
Shoe Page No. 8
We love a cheap ballet flat. But what shoes would you buy if money were no object? If you're dying to get your hands on Dorothy's ruby slippers from The Wizard of Oz, it's going to set you back quite a bit. In 2000, they sold for more than half a million dollars!
Shoe Page No. 9
If you've ever wondered about the symbolism of the shoes tied to the bumper of a bride and groom's car, we know the answer. In modern times, the shoes symbolize a long, happy journey. Historically, however, a groom's future father-in-law would give him shoes to represent passing on his authority over his daughter to her husband. (Um, yikes?)
Shoe Page No. 10
You might not have found the perfect pair of "to-die-for" shoes, but have you found the shoes to die in? Marie Antoinette, known and hated for her extravagance, wore high heels when she was executed during the French Revolution. And since we're on the subject of extravagant history, did you know that during Greek plays, actors would wear high heels to show they were the main characters? The supporting cast members would wear flats or socks.
Click here to print all of the shoe coloring pages at once!
This article was originally published on