Amazon's Selling A Ton Of These Chic Clothes That Look Expensive But Are Under $35
You actually won't believe the price tags.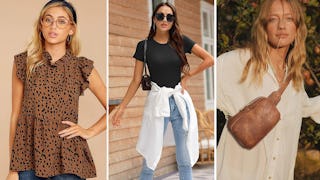 We may receive a portion of sales if you purchase a product through a link in this article.
You know that feeling when you're scrolling through your social feeds and you see the cutest outfit or accessory, only to click on the link and find out it's way out of your budget? No doubt that's always a bummer, but before you give up on getting the wardrobe of your dreams, check out these chic options that look expensive but are actually (secretly) affordable. I'm talking quilted handbags, sporty sunglasses, sleek satin pants, and more — that look incredibly luxe but are all under $35.