Man With Zero Self Awareness Makes Website To Find A Girlfriend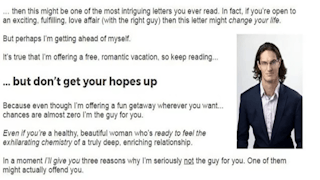 Image via shouldyoudatenate.com
This is your worst date ever, in website form
Nothing better than going on a date with a new man who talks endlessly about himself, right ladies? We usually have to wait until we're face-to-face with someone to find out that they're going to drone on endlessly about themselves — but thanks to technology, ShouldYouDateNate.com exists — and the answer is NO. No, you shouldn't.
Nathaniel Rifkin, a self a self proclaimed "passionate workaholic" from Denver, Colorado designed a website, ShouldYouDateNate.com hoping to find the woman of his dreams and warns if you're looking for love, his words might "change your life" and "this might be one of the most intriguing letters you've ever read."
All 3,000 words of it.
Rifkin warns this might not be the right opportunity for you…"even if you're an exceptionally intelligent, beautiful woman who secretly dreams of meeting a great guy…" because along with all his requirements for his perfect mate, he lists the reasons why you should not date him.
Even though he is tall, dark, handsome, and an overachiever in every way, he may not be the guy for you: He's a workaholic. "And when I meet that special woman, she just might be able to tempt me out of the office once in a while…" Strange. No one could've guessed that this guy spends his days staring into a computer and not interacting with humans. Nope. Not at all.
In order to pique Nate's interest you must be 22-35, have "a slender, healthy body, a reasonably slim waist, and a very pretty face," and be "intelligent, healthy, happy, ambitious, spiritual" and have a good sense of humor. And if you're into Facebook or binge-watching television don't even think about applying. Nate is too good for that nonsense.
You are allowed to drink but not very much. Oh, and if your idea of "good nutrition is to top off your extra-large pizza and cinnamon buns with a diet coke …then I'm not the guy to help you polish your plate."
You can't have any of our pizza. Don't be crazy.
Rifkin is promising a free dream vacation "to a lucky woman" but you must send him a full- length picture to see if you pass the test. Also, you must go on vacation with him so…
Nate defends his laundry list for his dream woman by saying, "If I don't lay down some guidelines, this website will be answered by many woman who will not be at all compatible."
HA. Or no one will answer. That's a big possibility, right Nate?
One last thing Nate wants you to know "…there is only one of me and I want only one woman. If I get a mountain of responses, I might end up dating someone else when it should be you."
Fingers crossed, ladies.
Unfortunately, you can no longer "apply" to be Nate's woman. His website now takes you to a page about how he can teach you how selling himself as a date turned into "One of the most successful PR campaigns of 2017!" All because of his "brilliant double marketing strategy."
What just happened?
This article was originally published on