10 Shows To Watch With Your Kids That Won't Make You Die of Boredom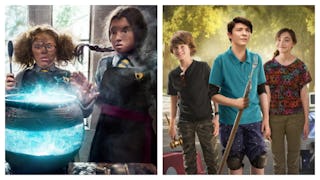 Netflix (left photo) / Amazon (right photo)
One of my favorite parts of the day is sitting down at the end of it and watching something that doesn't suck. I also like to spend some time with my family, so it helps my life immensely if we can all watch something together that also won't traumatize the children. Because then nobody sleeps. (Please see my warning about Stranger Things.)
Below are 10 shows that I have watched with my kids, most of them all the way through. Yes, we watch TV during the week, but #IJustDontCare and #YoureNotTheBossofMe. We are currently making our way through Gortimer Gibbons as fast as we can because shit is just not normal on Normal Street. My family tends to like magical stuff, creepy-crawly stuff, and anything with animals in it. So if a show can hit one of those elements and looks low on the kid-traumatization scale, we will try it out.
Here's our favorite 10:
Like I said, we are quickly making our way through the three seasons of this show. There are strange, magical things that happen every day because Normal Street is a wack-a-doo place, but it's not scary enough that I'm hiding under a blanket. And yes, I hide under a blanket watching shows way more than my kids do. There are time capsules and mysterious ghost-mobiles and fortune tellers and lost treasure. You can't go wrong.
The girls in this show "accidentally" find a magic cook book, and of course, start cooking things. And there is also something seriously wrong with one of the grandmothers — wait, is she in on it? Well, I'm not going to tell you — you'll have to watch it for yourself. Just be careful about that Last Ditch Layer Cake m'kay? There are two seasons of this show on Amazon and we binge-watched them like it was our job.
I'll be honest, I'm probably the biggest fan of this show in my family. I'd have watched the whole thing through by now, but lately I get out-voted in favor of Gortimer Gibbons. BUT I LOVE IT. It reminds me of watching Little House on the Prairie when I was kid. The kids get sucked in as well — it's just a little more slow-moving sometimes. They are always amazed at how different life looked in the late-19th century. There were no cellphones or iPads, and they lit candles and rode in a horse-drawn carriages. What?!
How to Train Your Dragon is one kid movie I could watch over and over. So, obviously, when the kids want to watch this, I don't argue too much. The plot lines are just engaging enough that even if I'm trying to work a bit while they watch, I usually end up putting everything aside because I have to know what's going to happen. I mean, who stole the baby dragons? Who?! There are five seasons of this show, and they are only about 2o minutes long — perfect for short attention spans.
Think of an all-girl's Harry-Potter-type school — only one young witch shouldn't be there. Or should she? The Worst Witch, a popular children's book series in the 1970s by Jill Murphy, is about a young sorceress who gets into all sorts of trouble. The writers put a modern twist on the stories, which makes this a fun, surprising show to watch. Mildred gets into so much trouble all of the time that you seriously don't know how she's going to get out of it. It seems as if everyone is always against her, so how will she possibly stay in school?
I have decided that I love Neil Patrick Harris with all of my heart. I've loved him since his days as Doogie Howser, and he just keeps getting better over time. There is only season of Lemony Snicket's so far, with the second season coming out in January 2018 — hooray! Three wealthy kids are suddenly orphaned (or are they?) and a long-lost relative (is he?) takes them in (does he?). This show is so much fun, and Neil Patrick Harris does an amazing job as the horrible Count Olaf who keeps trying to trick the children. And I guarantee that theme song will get stuck in your head for the rest of your life.
My kids freaking love this show. You'd think all the planning and building would be kinda boring for them, but no, they are mesmerized. I'm not sure if it's the goofy personality of the head contractor, Pete Nelson, or what, but anytime we can watch a grown-up show that the kids think is cool, we all win. And the treehouses are off the hook! We were even inspired to build our own treehouse in our backyard this summer.
If you have a budding fashionista on your hands or even just a kid who loves crafts, they will love Project Runway Junior. The kids are so young! And put under so much pressure! And if you've ever watched the original Project Runway, you'll be amazed at how well the kids do with hardly any bickering or infighting. They are just nice kids who are wildly talented. My kids are always yelling, "Can we just stay awake for the runway show?" Just like mini-Anna Wintours. I'm so proud.
Planet Earth. Is. Unreal. The cinematography, the stories, the educational information. I learned that there are some caterpillars in the Antarctic that don't become butterflies for, like, 14 years because the growing season is too short so they just keep freezing over every winter. It's incredible. This show is also very nature-on-nature violent, so please be aware with little kids. I'm haunted to this day by the sea lion vs. killer whale scene. But I'm a wimp. Remember the hiding under the blanket? I'm like, "Run little baby deer!" And then, no, there's a wolf. But it's life like you've never seen it.
HUGE WARNING on Stranger Things: This shit is scary. We didn't let our littlest one watch — no, no, no. My 10-year-old watched it with his Nana while visiting her, so when we started it with him, we were like, "How did you watch this without having nightmares?" My husband and I were clutching onto him the whole time, making him promise that everyone was going to be okay. He's a tough nut, so I wasn't worried too much, but I'd watch it first and judge what you think your older kid can handle. You don't want to have any sleepless nights on your hands. There is a second season coming out around Halloween.
Happy watching, everyone, and we'd love to hear what some of your favorite shows to watch with your kids are!
This article was originally published on