Simone Biles Answers USA Gymnastics' Birthday Tweet With Request For 'Independent Investigation'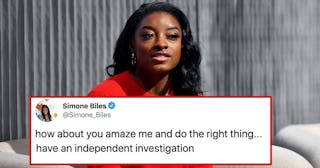 Craig Barritt/Getty
USA Gymnastics wished Simone Biles a happy birthday, and she used the moment to hold them accountable
In these dark and uncertain times, we could all use a hero — and this weekend, one of those heroes was Simone Biles. On Saturday, March 14, the Olympic gold medalist turned 23 and, naturally, found herself on the receiving end of well-wishes from fans, friends, celebrities, and more. And she seemed pretty pumped about the day, saying in a happy snap that she was "ready for my Jordan year!"
However, Biles was decidedly not excited to see USA Gymnastics tweet in her general direction (see also: they tweeted the wrong account). "HAPPY BIRTHDAY to the most decorated gymnast of all time, @simoneiles! We know you will only continue to amaze us and make history!" they wrote.
So, Biles (real handle @Simone_Biles) made it clear what she considered the only acceptable birthday gift from the athletic organization: a more appropriate response to the Larry Nassar sexual abuse scandal. "How about you amaze me and do the right thing," she fired back, adding, "Have an independent investigation."
In January, USAG announced a proposed $215 million settlement for survivors of Nassar's sexual abuse. Li Li Leung, president and CEO of USAG, called the plan a step forward and said she hoped continued mediation would lead to a mutually agreeable outcome.
But clearly, Biles does not believe that USAG's current plan of action is agreeable or acceptable or anything of the sort — and rightly so. A doctor, Nassar was accused of abusing around 499 known victims. There are over 500 litigants in the lawsuit against USAG. As in, more than five hundred young athletes were abused by a man who'd been entrusted with their care. And as Nassar's governing body, USAG is culpable.
Biles has added reason to feel betrayed by USAG, as they reportedly withheld the investigation of Nassar's sexual abuse from her until after she returned from the 2016 Olympics. This despite the fact she was among the first athletes USAG learned back in 2015 may have been sexually assaulted by Nassar.
At the time, Leung said in a statement that the organization was "surprised, deeply saddened and outraged to learn from the Wall Street Journal that Simone Biles was one of the athletes mentioned in the original notification in 2015 that triggered the initial Nassar investigation." She went on to express their apologies, calling Biles the "heart and soul of women's gymnastics."
This is Biles, though — she's a creature of audacity and tenacity. She isn't easily swayed when she has her sights set on something and, right now, that thing is an independent investigation. "Can't tell you how hard this is to read and process. The pain is real and doesn't just go away… especially when new facts are still coming out," she tweeted while sharing the original reporting about the FBI investigation. "What's it going to take for a complete and independent investigation of both USOPC and USAG??"