The Rock Shares Sweet Post Celebrating His Daughter Joining The WWE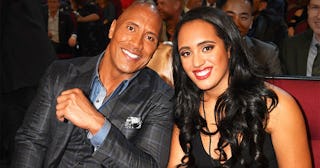 Jeff Kravitz/Getty
Simone Johnson will begin training in Florida and her dad could't be more proud
Simone Johnson just announced that she's signed on with WWE and her famous dad, Dwayne "The Rock" Johnson, couldn't be more proud of his firstborn girl.
The 18-year-old has signed with WWE and is already busy training at the WWE Performance Center in Orlando, Florida. According to a statement, Johnson, a fourth-generation wrestler with the organization, understands what this means to her entire family. "It means the world to me. To know that my family has such a personal connection to wrestling is really special to me and I feel grateful to have the opportunity, not only to wrestle, but to carry on that legacy," she said.
Johnson, who is married to Lauren Hashian, responded to the news on Instagram shortly after WWE, writing, "To the little girl who fell in love with wrestling & said 'this will be my life one day', this is for you. I'm humbled, grateful & ready to work. Let's do this."
https://www.instagram.com/p/B8ZZNazg7Ji/?utm_source=ig_embed
Her father, who wrestled as "The Rock," was a 10-time world champion. Her great-grandfather was "High Chief" Peter Maivia who started the dynasty, and her grandfather, who recently passed away at the age of 75 from a heart attack, was Rocky Johnson.
Her proud dad posted his excitement of the news on social media, saying, "Dreams ain't just for dreamers. Congrats to my #1 born, Simone Johnson on officially signing her wrestling contract with @wwe @wwenxt and on her way to becoming the first ever 4th generation WWE athlete. Carry our family name proudly, but your road will always be yours to create, earn & own.
So proud. Live your dream. Let's work."
Though she'll likely be getting some serious coaching from her proud pop, she's also being coached by legendary Head Coach Matt Bloom. "Simone knows she has a lot to learn," said Bloom. "She's hungry to learn and picks the coaches' minds, and the veteran Superstars', as well. She's not going to rest on her laurels. It's been a short time, but she's been crushing it."
Though she'll be training at the WWE Performance Center for the foreseeable future before making her debut in the ring, all eyes will be on her when the big day finally comes.
Her proud mom, Dany Garcia also congratulated her daughter, saying in part, "While the legacy of the family may be your platform, your future will be uniquely yours to earn," Garcia wrote to her daughter.
"Not only does Simone now have an opportunity to cultivate and display her passion for WWE within the Performance Center, but she'll carry on the tradition of her incredible family lineage while creating her own impact as WWE's first fourth-generation Superstar," said WWE executive Paul "Triple H" Levesque.