10-Year-Old Hero Saves Toddler Sister From Drowning In Heart-Stopping Video
by Cassandra Stone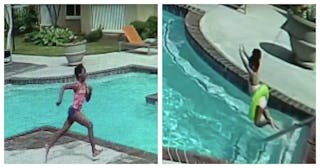 GMA/YouTube
Thankfully, the little girl is home safe and sound after a two-week hospital stay
Now that summer is officially here, kids everywhere will be cooling off in pools and lakes and oceans across the country. Which means highlighting the importance of water safety in children is more crucial than ever. One family learned this lesson the hard way when a 10-year-old girl jumped into a pool to save her toddler sister from drowning.
Surveillance footage from the apartment complex where the incident occurred shows three-year-old Kali Dallis walking into the pool in the shallow end with an inflatable device around her waist. When she jumps off one of the steps, she goes underwater and slips through her flotation device. Her 10-year-old sister, Jayla, was swimming in the deeper end when she realized her little sister was drowning.
Jayla quickly raced to her sister and jumped into the pool, desperately trying to get her out. A witness at the pool called 911 while a family member and the apartment operations manager began performing CPR on the toddler after she was pulled out.
Local police sergeant, Ed Lyons, received the call and rushed to the scene. He said he's the father of a little girl himself, so he felt especially connected to the case. "I saw my little girl laying there, same kind of little bathing suit she wears," Lyons tells WAFB-9. "Same little hair pulled up in a little bun up top. You know you kind of have to push past that and do what you're trained to do."
Drowning is the leading cause of death for children ages one to four. New recommendations from the American Academy of Pediatrics are highlighting the importance of water safety and drowning prevention, and the AAP has released updated advice and suggestions for parents of small children: kids should learn to swim at one.
Kali spent two weeks recovering in the hospital. Her mom, Daneshia Dallis, tells WSBTV-2 that she feels incredibly lucky to be able to take her home. Daneshia wasn't at the pool that day, but her sister was watching the girls at the pool. She got the call to come to the hospital's ICU to be with her daughter, which is where she watched the surveillance footage of her older daughter's heroism.
"I'm fortunate to get to take my baby home after two weeks," she said. She knows her little girl may not be alive if it weren't for the quick action of her big sister. Jayla had even begun peforming CPR before anyone else got to the child — which she says she learned on TV.
"As a 10-year-old, to think about all of that in a traumatic situation, I'm so proud of her, I don't even know what to do," the girls' mother said.
This article was originally published on